Do black people support Obama because he's black?
Surviving slavery, segregation and discrimination has forged a special pride in African-Americans. Now some are saying this hard-earned pride has become prejudice in the form of blind loyalty to President Barack Obama. Are black people supporting Obama mainly because he's black?
If race is just one factor in blacks' support of Obama, does that make them racist? Can blacks' support for Obama be compared with white voters who may favor his Republican challenger, Mitt Romney, because he's white? These questions have long animated conservatives who are frustrated by claims that white people who oppose Obama's policies are racist.
This week, when a black actress who tweeted an endorsement of Romney was subjected to a stream of abuse from other African-Americans, the politics of racial accusation came full circle once again. Stacey Dash, who also has Mexican heritage, is best known for the 1995 film "Clueless" and the recent cable-TV drama "Single Ladies." On Twitter, she was called "jigaboo," "traitor," "house nigger" and worse after posting,
"Vote for Romney. The only choice for your future."
The theme of the insults: A black woman would have to be stupid, subservient or both to choose a white Republican over the first black president. Russell Simmons, the hip-hop mogul and Obama backer, called Dash's experience "racism."
Said Barbara Walters on "The View": "If she were white, this wouldn't have happened."
Twitter users are by no means representative of America, and many black Obama supporters quickly denounced the attacks. But for people like Art Gary, an information technology professional, the reason Dash was attacked is simple: She is a black woman supporting a white candidate over a black one. Click here to continue reading…
In 2008, Bruce Springsteen performs at an outdoor campaign rally for President Barack Obama at the Cleveland Mall, in Cleveland, Ohio. The musician will join former President Bill Clinton at a Thursday rally in Parma, Ohio, two days after the second presidential debate. Obama will not attend the rally.
Springsteen also will appear at a campaign event Thursday in Ames, Iowa. Springsteen first campaigned for Obama in 2008, but this will be his first political appearances of the 2012 cycle. Clinton is a prominent campaigner for Obama. Clinton and Springsteen's joint appearance in Ohio underscores the importance of the key swing state.
Polls show Obama with a slight lead there over Mitt Romney, but the Republican presidential candidate is spending an increasing amount of time and resources in the state ahead of Election Day via TheGrio.
Obama 2012 campaign says it surpassed 4 million donors…
President Barack Obama's campaign says it has surpassed 4 million donors, a record for a presidential campaign. The president's field director Jeremy Bird announced the total in an email to supporters Saturday night.
Obama's campaign has relied on small donors to boost its fundraising totals through the summer and fall. The campaign raised $181 million in September, its biggest haul of the cycle. Republican Mitt Romney's campaign has not yet announced its September fundraising numbers via HuffPost. 
With his "Sex And The City" days long behind him, Chris Noth is keeping busy playing Peter Florrick on "The Good Wife" and with his debut as J.P. Morgan in Encore's "Titanic: Blood And Steel" miniseries. In honor of his involvement with Beaulieu Vineyards' Give & Give Back campaign, Noth spoke with HuffPost via phone to talk about 'The Good Wife," working with Matthew Perry and why he's tired of being "Mr. Big."
Let's talk about "The Good Wife." So Peter's running against Matthew Perry's character, and he's also in "Go On." How are you coordinating that? I'm kind of the wrong guy to ask. You'd have to ask the producers. I know they're planning on him coming back though. That's all I can tell you.
What do you think Peter's biggest obstacle will be in winning the election? His past, and the cut-throat nature of politics in general. Because of his past, he's provided plenty of material. As you've noticed in our own elections, [the media] uses certain things to the fullest extent of the law. He's got a few skeletons in his closet. It makes for an interesting episode.
A lot of the characters on the show are constantly questioning Alicia about why she stays with Peter. Why do you think that is? They're both complicated people who have a shared past, and they've been through a lot together. When you have a shared history with someone, it's not easy to walk away from. Click here to continue reading the interview. "The Good Wife" airs on Sundays at 9 p.m. ET on CBS…
Pale and interesting Khloe Kardashian ditches the fake tan and shows off her lily white legs on day out with bronzed sister Kim. As one third of the famous Kardashian sisters, Khloe is more than used to going glamorous for red carpet events – with fake tan a staple beauty product ahead of posing for photographers.
But it seems the 28-year-old reality star has discovered that the pale look is more interesting than looking bronzed all year round, as she showed when she displayed her lily white legs on a day out with her sister Kim in Miami on Friday.
The pretty brunette highlighted her alabaster complexion by wearing an all-black outfit, consisting of a pair of black shorts, black shirt and black and gold studded sandals.
Khloe's milky skin was made even more obvious when she stood next to her older sister Kim, who looked as tanned as ever in a leather miniskirt and plain white T-shirt. Click here to continue reading…
Show Review: Opening Ceremony Spring 2013…
With each season, Opening Ceremony becomes more and more popular, from its coveted collaborations to its slew of die-hard celebrity fans (Rihanna and Solange Knowles being two of the most noteworthy). For Spring 2013, the brand continued its quirky and sweet sensibility, but added a dash of the bad girl aesthetic with cutout detailing, form-fitting silhouettes, and bare skin wherever possible, all modeled by Marihenny Rivera. Click here to view full 2013 collection…
Kendra Wilkinson: "We get cranky if we're not having our fun time"…
Kendra Wilkinson admits she and husband Hank Baskett get cranky when they get interrupted by their son Hank Jr. The Kendra On Top star tells Life & Style:
"[My least favourite part of parenthood] is when Little Hank doesn't want to sleep. We get cranky if we're not having our fun time."
The always open reality star also admitted her husband sometimes gets on her nerves stating:
"When he finishes my sentences, I can't stand it. It's cute but sometimes I want to finish it. Let me finish my damn sentences Hank."
All that aside – the couple are still together and do eventually want more children. Kendra explained:
"It's whenever the time is right, we're not forcing it. But you never know. Hank could always use a sibling."Via CelebBabyScoop.
Cousin Carlton is married!
Actor Alfonso Ribeiro – best known as Will Smith's uptight cousin on The Fresh Prince of Bel-Air – has tied the knot. On Saturday, the actor wed fiancée Angela Unkrich in California, PEOPLEconfirms. This is the second marriage for Ribeiro, who has a 9-year-old daughter, Sienna, with ex-wife Robin Stapler. He and Unkrich, 31, were engaged in July.
The Bronx-born Ribeiro, 41, hit the big time as a child star in the '80s, dancing in a Pepsi commercial with Michael Jackson and playing Rick Schroder's sidekick on the sitcom Silver Spoons from 1984 to 1987.
He went on to play spoiled Carlton Banks opposite Smith on Fresh Prince, and the character's awkward "Carlton dance" to the Tom Jones hit "It's Not Unusual" became a Gen Y favorite. He later performed his moves in an L.A. flash mob that became a YouTube sensation.
Paris Jackson looks a lot like 80s supermodel Carol Alt…
Here's Michael Jackson's 14-year-old daughter Paris Jackson at an event in L.A. on Thursday (left) and '80s supermodel and former "Celebrity Apprentice" star Carol Alt, 51, in NYC on Thursday (right). Don't they look alike? They could pass for mother and daughter. 
Fix our schools, don't drug our kids!
The ills of a generation — of today's parents, schools and students — are reflected in an outrageous and heartbreaking story on the front page of today's New York Times.
Alan Schwartz writes of how doctors are using medications as de facto educational reform — giving ADHD medications to low-income students, not because they have the disorder, but because they are struggling in schools that can't teach them properly.
"I don't have a whole lot of choice," he quotes Dr. Michael Anderson, a pediatrician whose patients include many poor families in Cherokee County, north of Atlanta, as saying. "We've decided as a society that it's too expensive to modify the kid's environment. So we have to modify the kid."
Modify the kid. Are you not incensed by that? How about this, then, from Dr. Ramesh Raghavan, who studies prescription drug use among low-income children at Washington University in St. Louis. Because "we as a society have been unwilling to invest in very effective non-pharmaceutical interventions for these children," he tells Schwartz, "we are effectively forcing local community psychiatrists to use the only tool at their disposal, which is psychotropic medications." Click here to continue reading…
Yankees' Derek Jeter fractures ankle, out for the year…
The New York Yankees' World Series hopes may have just taken a hit, as shortstop Derek Jeter fractured his left ankle in game one of the American League Championship Series against the Detroit Tigers on Saturday night. Jeter suffered the injury while fielding a ground ball in the top of the 12th inning, with New York trailing 5-4.
He immediately went down in pain, staying face down momentarily. Jeter was helped off the field, putting no weight on the ankle, with fans chanting "Derek Jeter!" Yankees manager Joe Girardi confirmed the severity of Jeter's injury after the game:
"It won't jeopardize his career, but he will not be playing anymore for us this year," he said, adding it will likely take three months to recover from the injury.
Girardi said Eduardo Nunez will be activated to replace Jeter's spot on the roster. He added that third baseman Alex Rodriguez — a former shortstop — would not replace the Yankees captain at the position, citing that it's been too long since he has played there. Detroit won the game 6-4. Game two is Sunday afternoon in New York via CNN.
Click, click! It's the Becker men…
German Tennis legend Boris Becker posed with his three sons (old photograph as Amadeus is much bigger now) Noah (18), Elias (13) and Amadeus (2). Boris Becker is a lucky man!
Ryan Gosling cause quite a frenzy at the grocery store…
Ryan Gosling caused girls to go wild when they see him on screen. Only this time a group of gals went girl crazy during the actor's recent grocery run. Kagney Kordzik, 20, and her girlfriends were visiting Austin — where Gosling has called home since filming the untitled Terrance Malick project — on Thursday and while taking a break on the rooftop of the local Whole Foods, someone in the group spotted The Notebook actor.
"My boss waited in line to buy something and casually told us that she stood next to Ryan Gosling at the checkout!" Kordzik told Celebuzz. "So naturally 10 girls bolted downstairs and wanted to see where he went. They searched the store and realized he left. So they followed him to his car," she said with a laugh.
But Gosling soon realized someone was on his tail.
"He started walking briskly like he knew someone was following him and got in his car." "He saw them and waved as he pulled away. They just wanted to get a glimpse, but were excited he waved back."
Click, click! It's Amber Rose' baby bump…
Mommy-to-be Amber Rose debuted her growing baby bump last Sunday – when her pregnancy marked 21 weeks. She's glowing and looking beautiful as usual as she donned her usual platinum blond hair color and red lipstick, a signature look during her pregnancy so far. She and her fiancee Wiz Khalifa recently revealed they were expecting a baby boy and have already registered their baby registry.
Amber Rose showed off her baby bump at a surprise birthday party given in her honor over the weekend. Although her birthday isn't until October 21, her best friend decided to celebrate early. The model will turn 28 on October 21.
The model rocked a polka dotted dress while wearing white sunglasses and posing with party guests. Rose's arm tattoo and red head scarf were the highlight of her fashion statement as they stood out in nearly every photo.
Rose recently registered at the high-end Bel Bambini baby store in West Hollywood where she placed a Classica Pram Bassinet and rubber ducks for boys on her list of desirable gifts. The model also listed a blue blanket as one of the items her and fiance Wiz Khalifa are in need of.
She is said to be expecting a boy. This will the first child for both her and her fiancee Wiz Khalifa. Via BCK.
Spotted: Roselyn Sanchez & family pumpkin patching…
Roselyn Sanchez and her hubby Eric Winter were spotted taking in the sights and sounds at Mr. Bones Pumpkin Patch in West Hollywood, Calif. with their little girl, Sebella, on Sunday (October 14).
The 10-month old barefooted babe looked adorable wearing her white flowered dress and red bow.
The Without A Trace actress tweeted:
"Pumpkin Patch Day in pretty LA with Sebella and friends! Q lindo verla tan bonita junto a las calabazitas! La paso super bien! Happy mom!" Via CelebBabyScoop.
Nadine Coyle & Waz Ashayer = Love Machine…
She's rekindled her friendship with her band mates and is set to rejoin them for a Girls Aloud reunion, but things are also going swimmingly in Nadine Coyle's love life.
The pop star stepped out with her model boyfriend Waz Ashayer in London on Saturday night, looking madly in love. The pair seemed thrilled to be in each others company, as they giggled and held hands leaving nightclub Rose.
The new couple looked absolutely smitten, and perhaps a little bit intoxicated, as they burst into laughter trying to find their way to a taxi. And the 27-year-old singer even colour-coordinated her outfits with that of her new boyfriend's, as she showed off her toned legs in a black mini-dress while Waz wore an all black attire as well.
According to the Irish Sun newspaper, the lovebirds met a couple of months ago at London hotspot Mahiki and met up again at the V Festival in Chelmsford, Essex, at the end of August, where they were spotted kissing for the first time.
The half-Irish half-Palestinian Waz seems to have somewhat of a penchant for pop princesses, having also been linked to The Saturdays' Mollie King and Little Mix singer Perrie Edwards. Nadine split from fiance Jason Bell in June 2011, and also previously dated Dallas hunk Jesse Metcalfe. Click here to continue reading…
Back together: Nadine has worked out her problems with the other Girls Aloud members, seen here together in 2009.
Gissa kiss, it's your birthday! Cheryl Cole celebrates with boyfriend Tre Holloway…
After her turbulent love life, it seems that things are finally back on track for Cheryl Cole in the romance department. The smitten pop star has been quietly dating backing dancer Tre Holloway but the couple took their romance public during a performance of her tour this weekend.
The singer, 29, celebrated her new love's 28th birthday with a public display of affection, as she kissed him during the gig at the Manchester Arena. Cheryl then sang a chorus of Stevie Wonder's Happy Birthday in front of thousands of screaming fans, who sang along with her.
Her admirers were shocked by the PDA, as the notoriously private singer has refused to talk about her new romance until now.
One fan said on Twitter: 'I can't believe I saw TREZZA kiss OMG I sang with Cheryl and 15,000 other soldiers happy birthday to Tre,' one audience member wrote on the social network site. 
But as if the public kiss and song weren't enough, Cheryl then brought out a giant gold birthday cake which was brought out by his fellow dancers.
The star treated her new love to a lavish birthday party after the performance. Click here to continue reading…
Harvard Student Magazine satirist writes RACIST garbage, doesn't understand satire…
Harvard — the storied Ivy League that's produced many great comedic writers well-versed in the time-honored rich people traditions of "joshing" and "ribbing" — has apparently lost its edge/mind. The art of subtle satire has been one of the staples of their comedy scene for quite some time — turning out the likes of Conan O'Brien and some other funny-ish white bros — but they've really dropped the ball at their student-run magazine, Harvard Voice.
A Harvard attendee brought the recently published article, 5 People You'll See at Pre-Interview Receptions, to our attention. In it "Anonymous" (more on this later) runs down a host of shitty stereotypes of the students who are idiotic enough to want jobs. It's all pretty dumb but the shittiest has to be:
2. The Asian
You can always spot the Asian contingent at every pre-interview reception. They dress in the same way (satin blouse with high waisted pencil skirt for girls, suits with skinny ties for boys), talk in the same sort-of gushy, sort-of whiny manner, and have the same concentrations and sky-high GPAs.

They're practically indistinguishable from one another, but it's okay. Soon, they will be looking at the same Excel spreadsheets and spend their lunch talking about their meaningful morning conversations with the helpdesk of Bloomberg. Uniqueness is overrated when you make six-figure salaries.
So many problems here. Where to begin? First off, way too many words. I could've gotten the job done in a way less space. Please see:
2. The Asian
You can always spot the Asian contingent at every pre-interview reception because they are Asian and all Asian people look and act the same Ching Chang Chong Man Rice Paddy Hat. Click here to continue reading…
Solange Knowles covers Elle Magazine South Africa…
Solange Knowles is Elle Magazine South Africa's cover star! Yes, the 'summer' issue hit shelves Monday, October 15, 2012. On the cover she is wearing 'ankara' a fabric synonymous with West Africa that protrudes a mix of color and patterns. She looks lovely and represents 'a modern African look'.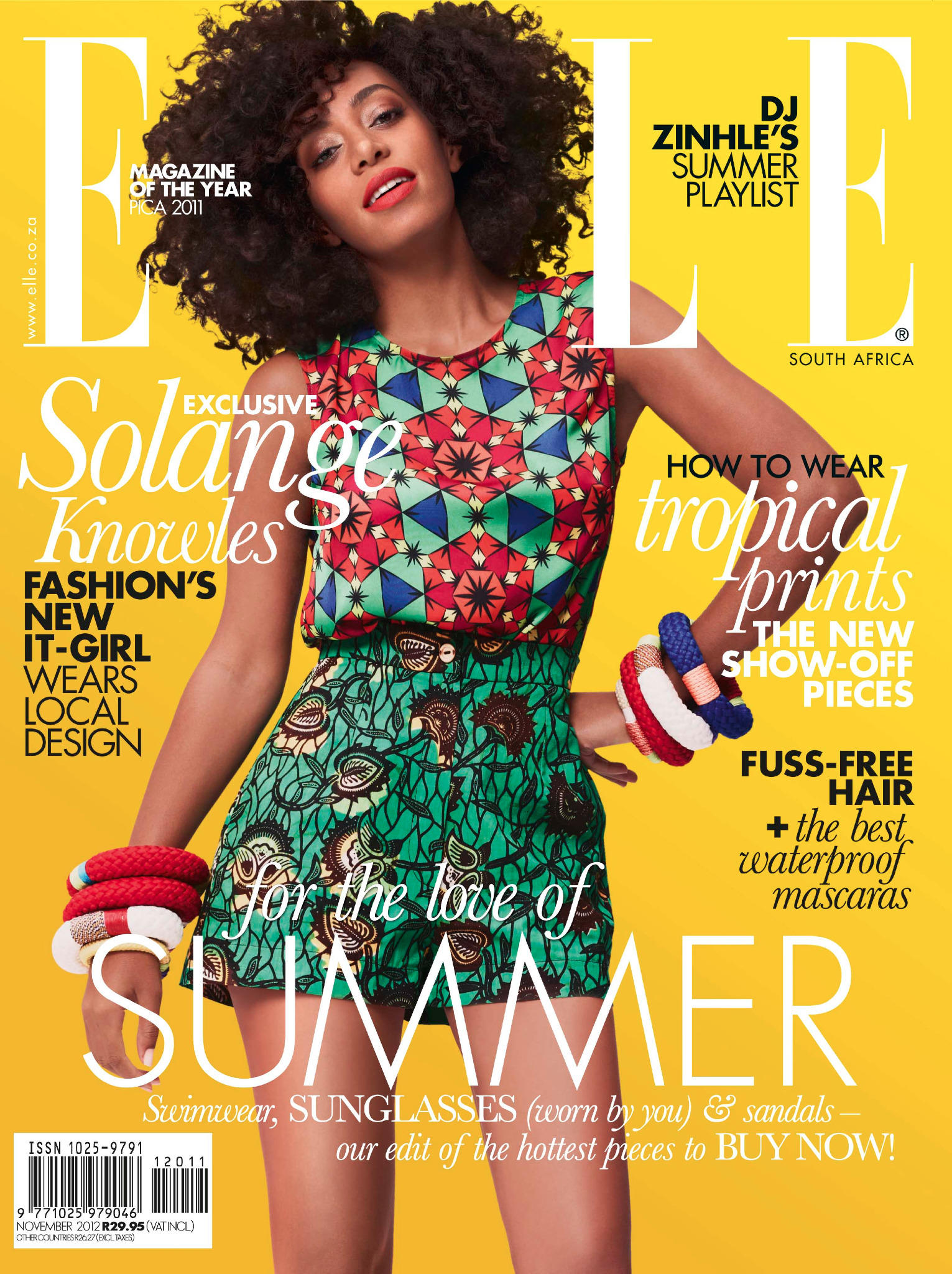 'Put the white back in the White house' T-shirt spotted at Romney rally goes viral…
The Internet and social media were buzzing this weekend over an offensive T-shirt captured on camera Friday by a Getty Images photographer at a Mitt Romney/Paul Ryan rally in Lancaster, Ohio. The shirt, which bore a Romney/Ryan logo, but was not associated with the campaign, read in large letters: "put the white back in the White House."
The picture was posted to several websites and shared on Twitter. Google was returning at least 12,400 results for stories about the shirt on Sunday.
Extreme anti-Obama sentiment isn't new. So far this election season, we've seen "lynched" empty chair in Texas — a macabre send-up of the Clint Eastwood routine during the Republican National Convention (the chair was eventually taken down), various versions of the "birther" meme, including the son of Wisconsin Senate candidate Tommy Thompson getting caught on video at a rally Sunday saying that Republican voters "have the opportunity to send President Obama back to Chicago – or Kenya…", and the return of the Obama witch doctor image, this time in a New Jersey store display.
Still, the Ohio T-shirt attracted particular attention online and in social media circles, due to the overtly racist message.
Buzzfeed confirmed that the photographer, Jamie Sabau, took the photo inside the Romney/Ryan rally, and not outside. Meanwhile, a spokesman for the Romney Ryan campaign called the T-shirt, worn by an unidentified man, "reprehensible," adding that it "has no place in this election."
While the shirt is offensive, the fact is it's easy for those who harbor strong political feelings to create their own apparel and sell them online. (And there have in the past been plenty of offensive anti-Goerge W. Bush, John McCain and Sarah Palin T-shirts too.)
TheGrio found just a few examples of anti-Obama paraphernalia available on the Internet, made by various individuals who oppose the president. Do these messages go too far? Via TheGrio.
LANCASTER, OH – OCTOBER 12: A supporter of Republican presidential candidate, former Massachusetts Gov. Mitt Romney and Republican vice presidential candidate U.S. Rep. Paul Ryan (R-WI) waits for a campaign event to begin on October 12, 2012 in Lancaster, Ohio. Ryan debated U.S. Vice President Joe Biden the evening before and Romney is scheduled to debate U.S. President Barack Obama for the second time on October 16. (Photo by Jamie Sabau/Getty Images)
Jill Biden steps up involvement in Obama-Biden reelection campaign…
There's the scripted world of national politics and then there's Jill Biden.
The vice president's wife will take her spot in the front row at her husband's debate Thursday night in Kentucky but only after a full day of teaching at Northern Virginia Community College. This week is midterms.
Politics is Joe's thing, Biden has said. Teaching is hers. Yet, in recent weeks, she has been doing more and more of his thing, becoming an integral part of her husband and President Obama's reelection campaign.
Unlike Joe, Jill rarely makes the kind of verbal missteps that have become a part of the vice president's political narrative. Republicans seem always at the ready to pounce on the next possible gaffe of the loquacious ad-libber.
Jill, who has been married to Joe for 35 years, has a different approach. Behind a lectern, she can seem stiff and studious, like the instructor she is. Even after 13 campaigns for her husband and son Beau, who serves as Delaware's attorney general, she is still not quite comfortable speaking to crowds. Some say that this slight awkwardness and the absence of campaign-slick tactics are assets. Click here to continue reading…
Wisconsin GOP candidate Tommy Thompson says son sorry for Obama 'Kenya' remark…
Republican Senate candidate Tommy Thompson's campaign says his son apologizes for suggesting voters in the fall election should send President Barack Obama back to Kenya.
Jason Thompson, the son of the former Wisconsin governor, was caught on camera Sunday making those remarks during a brunch hosted by the Kenosha County Republican Party.
"We have the opportunity to send President Obama back to Chicago — or Kenya," said Jason Thompson, an attorney at a large Milwaukee law firm.

The comment drew laughs from the crowd, with one woman jokingly adding, "We are taking donations for that Kenya trip."
The video was taken by a Democratic Party operative and posted at BuzzFeed Politics on Sunday, according to the Milwaukee Journal Sentinel.
Obama's father was Kenyan, but the president was born in Hawaii. Click here to continue reading…
Princess Nahla gets in the halloween spirit…
Nahla Aubry rides a horse as she and her father Gabriel Aubry head to a Halloween festival in Studio City. Nahla appears to already be dressed for the event, rocking a cute princess outfit. The little princess later rested on dad after a long day of horse riding.
Gabriel and Nahla recently spent time together at the pumpkin patch in Simi Valley, California, where Gabriel accompanied his daughter as she picked out the best pumpkin for the season. Nahla's mother, Halle Berry, was also at the patch with her fiance Oliver Martinez.
Although Halle and Gabriel's relationship is strained, they are working together for the good of their daughter. Nahla is Berry and Aubry's only child together via BCK.
Jillian Michaels &  her family are pumpkin patch pals…
'The Biggest Loser' star Jillian Michaels and her partner Heidi Rhoades hit the pumpkin patch with their two kids – daughter Lukensia, 2, and son Phoenix, 5 months – on Sunday (October 14). Along with some pals, the family-of-four prepped for jack-o'-lantern season at Mr. Bones Pumpin Patch in Beverly Hills, Calif.
Jillian and Heidi are one of the many couples in Hollywood that have put adoption in the spotlight. They recently adopted Lukensia from Haiti after a lengthy process.
The celebrity trainer said the adoption process was not easy, and after a year and a half of waiting for a referral from Africa, she switched gears.
"I switched all my paperwork over to Haiti and I get a phone call one day," she shared. "Heidi is now trying to get pregnant for five months now. They say, 'We have a referral for you,' which means they've matched you with a child. I was like, 'This is unbelievable, this is great!' I come home and tell Heidi, and in less than 24 hours she says, 'By the way, I'm pregnant.' "
Although she recently left The Biggest Loser after 10 seasons, Jillian is returning to the popular weight loss competition TV show this January. And there's a twist in season 14. In addition to adult competitors, there will also be teens aged 13 to 17 for the first time via CelebBabyScoop.
Spotted: Reggie Bush and Lilit Avagyan at dinner…
Reggie Bush and his pregnant girlfriend Lilit Avagyan were spotted out to dinner at Prime Italian a few days ago. Reggie Bush, 27, who currently plays for the Miami Dolphins recently announced his girlfriends' pregnancy by saying:
'I have a little one on the way,' he told Florida's Paul and Young Ron Morning Show. 'We're pretty excited… It's an opportunity to bring in new life and raise a child.'
Reggie, 27, has been dating professional dancer Lili, 25,  for a year. She shares his ex-girlfriend Kim's Armenian heritage and has been described as a 'lookalike'.
Billionaire Koch brothers send out another letter to 45,000 employees telling them to vote for Romney…
Thousands of employees at companies owned by billionaire Republican fundraisers were told to vote for Mitt Romney in packet mailed to them warning of the dangers of an Obama re-election. The mailer is easily traced back to David and Charles Koch, the notorious multi-billionaire brothers who have largely financed the Tea Party movement and served as effective Romney bundlers.
In These Times released excerpts from a letter sent to 45,000 employees at Georgia Pacific- a Koch-owned paper company based in Washington state- that was signed by the company's CEO Dave Robertson. This is the third time in the past week that the head of a major corporation sent out a letter pressuring employees to vote for Romney in the upcoming election.
"While we are typically told before each Presidential election that it is important and historic, I believe the upcoming election will determine what kind of America future generations will inherit,' the letter reads."

"It goes on to say that the dangers that loom with the wrong presidency would include 'unprecedented regulatory burdens on businesses' and threaten 'many of our more than 50,000 U.S. employees and contractors may suffer the consequences, including higher gasoline prices, runaway inflation, and other ills."
The excerpts from the letter show that while the CEO never explicitly said that Obama would be the one to cause said ills, the point is made very clear by the inclusion of a list of Koch-supported candidates. Needless to say, Obama did not make the list. Click here to continue reading…
Flashback: Clarence Thomas confirmed to Supreme Court today 21 years ago…
On this day 1991, one of the most controversial and contentious Supreme Court confirmation battles came to an end.
Clarence Thomas was confirmed as only the second African-American justice in history by a narrow 52 to 48 vote. Thomas, who was nominated by then-president George H.W. Bush, was accused of sexual harassment by a former colleague, Professor Anita Hill.
Hill testified before the Senate and was grilled relentlessly by the late Senator Arlen Specter (R-Penn), who passed away this past weekend.
Specter was widely criticized in feminist circles for what many viewed as biased and sexist lines of questioning during Judiciary hearings. Although now best remembered as a moderate who switched from the Republican to Democratic parties late in his career, it was Specter's questioning of Hill that cemented his image in many African-Americans minds. Click here to continue reading…
Brad Pitt smolders in debut Chanel No. 5 ad…
Brad Pitt is engaged to one of the world's most beautiful women — and now he's a smoldering spokesman for one of the world's most quintessential beauty brands.
Pitt, 48, made his debut Monday in new ads for Chanel No. 5. Dressed casually, hair long and mood thoughtfully seductive, the actor appears in a black-and-white video spot that is a philosophical ode to love and longing.
"It's not a journey, every journey ends and we go on," Pitt recites in the 30-second ad for Chanel's signature fragrance. "Wherever I go, there you are," he adds quietly, looking directly into the camera in a sensual slow burn.
The ad was shot in London in May and directed by Anna Karenina filmmaker Joe Wright, who had previously worked on Chanel's 2011 spots for Coco Mademoiselle, featuring actress Keira Knightley.
In promoting Chanel fragrances, Pitt, a father of six multiracial children, becomes the company's first-ever male spokesman, and joins a glamorous cast of beauties including Marilyn Monroe, Catherine Deneuve and Nicole Kidman.
Pitt's commercial airs globally Monday; print ads combining the star's portrait and the perfume's signature bottle debuted on Chanel's website Sunday evening.
Part 1: 
Part 2: 
Celebrities dazzle on the 'Black Girl Rock' red carpet…
Multiracial celebrities such as Alicia Keys, Marsha Ambrosius and more dazzled at Saturday night's 'Black Girls Rock' 3rd Annual Awards. The ceremony which took place at the Paradise Theater in New York City was beaming with beautiful faces.
BLACK GIRLS ROCK! Inc. is 501(c)3 non-profit youth empowerment and mentoring organization established to promote the arts for young women of color, as well as to encourage dialogue and analysis of the ways women of color are portrayed in the media.
Since 2006, BLACK GIRLS ROCK! has been dedicated to the healthy development of young women and girls. BLACK GIRLS ROCK! seeks to build the self-esteem and self-worth of young women of color by changing their outlook on life, broadening their horizons, and helping them to empower themselves.
For the past four years, BGR has enjoyed the opportunity to enrich the lives of girls aged 12 to 17 years old through mentorship, arts education, cultural exploration and public service.
Take a look at the beautiful faces that graced the red carpet below. Images via NecoleBitchie.
Laura Govan of African-American and Caucasian ancestry
Lala Vasquez-Anthony of Puerto Rican ancestry
Alicia Keys of Caucasian and African-American ancestry
Laura Govan Erica Liles and Imani Schwalter
Marsha Ambrosius of Caucasian and African British ancestry
Tracee Ellis Ross of African-American and Caucasian ancestry
Naomi Campbell poses for Harper's Bazaar Russia November 2012 issue…
Naomi Campbell is ageless and it's evident in her recent cover for Harper's Bazaar Russia. It's hard to believe this woman has been modeling for 25 years.
Last Friday [Oct. 12], LaLa Anthony hosted the Grand Opening of premium children's athletic retailer Rookie USA in New York. The event included a children's fashion show with the kids of celebrity athletes showcasing items that can be purchased at the kids-only high end sports retail store.
As the parents proudly cheered on, Kiyan Anthony, the face of Rookie USA & Jordan Kids, Jalen (nephew of Derek Jeter), Amar'e Jr., Aré and Assata (children of Amar'e Stoudemire); Druw (son of Andruw Jones); Carsten, Jaeden, Cyia and Carter (children of CC Sabathia) and Sacha, Tyson and Sayge (children of Tyson Chandler) all ripped the runway in the cutest athletic and casual wear.
La La, the proud mother, was happy to have her son participate in the fashion show telling several media sources:
"The kids are super excited, and I'm so happy my son is in this show! It's so much fun watching all these kids wear these amazing clothes." Visit SheSoMajor to view full photo gallery.
The world's richest man is….AFRICAN!
An obscure king who ruled West Africa in the 14th century has been named the richest person in history in a new inflation-adjusted list of the world's 25 wealthiest people of all time. Spanning 1,000 years and with a combined fortune of $4.317 trillion, only three of the list's 25 are alive today; none of them are women and 14 of them are American.
Using the annual 2199.6per cent rate of inflation, where $100million in 1913 is equal to $2.299.63billion in 2012, Celebrity Net Worth's list includes familiar names like Bill Gates and Warren Buffett; but sitting at number one is Mansa Musa I of Mali.
The West Africa king, the richest person in history, and the ruler of the Malian Empire which covered modern day Ghana, Timbuktu and Mali in West Africa, had a personal net worth of $400billion at the time of his death in 1331.
1. MANSA MUSA I – $400 BILLION (BORN 1280)
Mansa Musa I: This video game representation of the king shows what he may have looked like Mansa Musa I, the richest person in history, had a personal net worth of $400billion at the time of his death in 1331.
Born in 1280, he ruled West Africa's Malian Empire which covered modern day Ghana, Timbuktu and Mali. His country's production of more than half the world's supply of salt and gold contributed to Musa's vast wealth, which he used to build large mosques that still stand today.
According to the writings of Arab-Egyptian scholar Al-Umari, Musa inherited his throne through a practice of appointing a deputy after the king goes on his pilgrimage to Mecca; later naming the deputy as heir.
Musa was appointed deputy of the king before him, who had reportedly embarked on an expedition to explore the limits of the Atlantic ocean, and never returned. Just two generations after his death, however, Musa's world record net worth was diminished after his heirs were not able to fend off civil war and invading conquerors. Click her to view the list of other billionaires…
Accessories Lust: Tom Binns Spring 2013…
As the holidays approach, there's no better fashion statement than that of jewelry for all of the parties to come. Tom Binns excels at head-turning accouterments and his Spring 2013 collection is full of multicolor crystal pieces that will help you start a conversation or two. Click here to view the full 2013 collection…
Tracee Ellis Ross CAMPAIGNS for President Obama in Ohio…
TheYBF.com caught up with biracial actress Tracee Ellis Ross on the campaign trail for President Obama in Iowa. She decided to put her efforts into the battleground state of Ohio and get young voters to vote early.
The beautiful actress and daughter of legendary Motown singer Diana Ross,  put her celebrity to good use. Last week, she actively advocated for President Obama in Ohio in an effort to swing votes to the democratic side.
With people in the state already voting, Ellis hopped on the DNC/Obama For America "Gotta Vote" Bus Tour. She traveled to Dayton and Columbus to encourage voters to take advantage of early voting and make sure they were registered to vote.
On why she decided to campaign & volunteer for voter registration trail
"So I'm speaking up and volunteering because I care about the people in my community and this country, because I care about Human Rights, Civil Rights and Women's Rights, because I know how important this election is."
On why President Obama is the best choice for women
"And this election is HUGELY important for women. This is an area I feel very passionate about. President Obama gets it. He believes women should be able to make decisions about their own bodies."
On the importance of voting
"The act of voting is one of the ways that you stand up and say that you matter, that you claim that you are enough to make a difference, that you say I know what's at stake, it affects me and I have a voice." Click here to continue reading the interview…
First lady Michelle Obama votes absentee for president: 'I couldn't wait for Election Day'…
President Barack Obama and first lady Michelle Obama say they both plan to vote early.
The first lady says on Twitter that she dropped her absentee ballot in the mail Monday, telling her followers: "I couldn't wait for Election Day."
The president replied in a tweet that he intends to vote early in person in his home state of Illinois on Oct. 25 — three days after the final presidential debate.
Obama's campaign says it's the first time a presidential nominee and his spouse will not vote in person on Election Day. It shows how Obama's campaign is trying to take advantage of early voting going on in several key battleground states.
Speaking with Seacrest shortly after she cast her vote via absentee ballot, FLOTUS Michelle Obama told him that though the president has been busy getting ready for the debate, he always calls her every night.
"Our check-in is really about the kids," she explained. "He wants to know what did we talk about at dinner? How is Sasha doing? What happened at basketball? Did Malia win her game?"
What did she say about how President Obama protects them from the sometimes intrusive and busy life of being the first family?
"One of the things he does is when he walks in the door he's Barack and he's Dad," she told Seacrest.
Obama plans to discuss early voting in Ohio and Iowa on Wednesday, after Tuesday's second presidential debate via TheGrio.
Leona Lewis is eight years older than her rumored new beau, One Direction's Liam Payne, but she isn't letting age come between them.
The British X Factor winner, 27 who is of Afro-Guyanese descent, Welsh, Irish, and Italian descent, has spoken out about her relationship with the teenage boy band member, 19, for the first time to reveal why he is such a great guy.
"Liam is very handsome and very sweet….but he is young,' she told The Sunday Mirror newspaper in the UK. "He's got his head screwed on and has good values and morals."
So how do they make their relationship work?
"We've known each other for a good couple of years," said Lewis who was previously dating dancer Dennis Jauch, 24. "I met him through our label and management plus we would bump into each other at shows.

"Dating someone younger ­depends on their maturity and it depends on the person. Guys date girls who are younger than them but I feel that girls are normally more ­mature. Maturity is the main thing for me." Via Celebuzz.
Halle Berry is the face of InStyle Magazine's November 2012 issue…
Halle Berry is InStyle's November cover girl! In this issue, the 46-year-old Oscar-winning actress, star of the already-buzzed-about Cloud Atlas (in theaters October 26th), and mother to Nahla Ariel talks about one of the greatest lessons she's learned over the years—trusting herself.
"Throughout my career I have been talked out of things I wanted to do, and when I look back I think, I should have followed my instincts," Berry said.
She utilizes that trust not only in her professional career, but in her personal life as well, especially with husband-to-be Olivier Martinez, who she's been with since 2010:
"I'm a hopeless romantic, and I won't stop till I get it right!" Now she knows better than ever what she wants from her partner. "He's silly, a clown, and very much the life of the party, which is good for someone like me," she said.

"Danny Downer…been there, done that. Now I like Louie Lightfoot!"
On facing challenges ahead, she says she's ready for them:
"Don't stress about your age or fight it," she advised. "Appreciate the young women who look like you once did, but don't strive to be like them. You're moving into a new phase of your life—embrace it. That's what I hope to do."
On relocating
Halle Berry is eager to marry Olivier Martinez, but for now, another matter is taking precedence – relocating the family, likely overseas, to shield her daughter from the spotlight.
"I'm not sure where I am going to be living in the next few months, so I have to get that settled first," the actress, 46, tells InStyle when asked by a reader about her wedding plans.

"It's the appeal of privacy and a greater sense of safety for Nahla," the Oscar winner says. "I don't want her to grow up around the tabloids. Because we are followed all the time, she is starting to feel like she is somehow special, and of course she is, but I want her to understand that she's special because of who she is, not because she was born into this celebrity blender."
The Oscar winner may well end up in France, where she and her French fiancé can give Berry's 4-year-old daughter Nahla a quieter life, away from the pressures of Hollywood.
Read more about how Halle has grown in the new November issue of InStyle, on newsstands Friday, October 19th.
Halle Berry reveals she is a 'distant relative' of Sarah Palin…
In an unexpected revelation, actress Halle Berry has revealed that she is a related to former Republican vice presidential candidate Sarah Palin.
Speaking in an interview with Extra's Jerry Penacoli, Berry, who is of mixed-race heritage, said, "You wanna know who I'm related to? Sarah Palin! That's what I said, 'Nooo!'"

"In some twisted way — somebody sent me this information that she was my distant [relative]," she added
The Oscar-winning actress was promoting her forthcoming movie Cloud Atlas alongside her co-star, Tom Hanks. The film focuses on the theme that we are all interconnected irregardless of background or era.
In response to Berry's comment, Hanks joked, "This is the Cloud Atlas continuum without a doubt I'm telling you the connections that go through! It doesn't matter who, what race, where, what time."
Hanks is also said to be related to one of America's most revered presidents, Abraham Lincoln. Berry's disclosure comes amid growing popularity for public figures to explore their family history on TV shows like NBC's Who Do You Think You Are? or the PBS series Finding Your Roots. Click here to continue reading…
Khloe Kardashian and Mario Lopez are official the new 'X-Factor' judges…
Keeping Up With the Kardashians star Khloe Kardashian Odom and Extra host Mario Lopez have been circling a deal to co-host FOX's The X Factor for months now.
The reality TV star tweeted:
"I'm sure you've been hearing the rumors and I'm SO excited that I can finally confirm the news — I am joining The X Factor as co-host with Mario Lopez!!!!" Kardashian, 28, writes on her official blog.

"I'm a huge fan of the show, so I literally fell over in my chair when I heard that I was being considered for the role," she continues. "The show already has such an incredible panel of judges and it is truly an honor to have been given this opportunity to work with them."
The duo will earn their reported multimillion-dollar paychecks while wrangling the already well paid current judges Britney Spears (who's making $15 million), Demi Lovato, L.A. Reid and Simon Cowell (who's also an executive producer). Via Celebuzz.
Berry and fiancé Olivier Martinez shared a romantic dinner at Fig & Olive in West Hollywood on Saturday.
"Halle looked spectacular," an onlooker tells PEOPLE. "She was lovely."
Sitting in the upstairs patio that overlooks the main dining room, the couple sampled dishes from Executive Chef Pascal Lorange's new fall menu including jamón ibérico, truffle risotto, sautéed spinach with fig, garlic and Marcona almonds.
They paired the dishes with glasses of white wine and Rosé.
Berry's latest film, Cloud Atlas, costarring Tom Hanks and Hugh Grant, opens in theaters Oct. 26 via People.
Click, click! It's the Pippens…
Scottie Pippen and his son are cuddle buddies. Larsa Pippen, the beautiful wife of Scottie Pippen tweeted a photograph of her husband and 5 year old Justin Pippen with the caption:
"They have the same silly personality!!"
Later the NBA champ tweeted this photograph with the following caption:
"Throwing strikes with the little lady at the Bulls bowling party"
Heidi Klum & Kids are a football family…
Heidi Klum cheered on Henry with the rest of the family at his flag football game in Brentwood, Calif. on Saturday (October 13). Her mom Erna, dad Gunther and boyfriend Martin Kristen also came out to support the 7-year-old. after the game they all went to lunch at The Ivy in Santa Monica.
The Project Runway star recently threw a celebration for Lou's third birthday at Disneyland. Last month Klum talked about her budding romance to Katie Couric.
Asked if she was in a "proper relationship" she said, "I don't even know if I can call it that. I don't know. He's been with our family for the last four years. He's cared for our entire family, mostly for our four children, helped us tremendously." Via Celebuzz.
Secretary of State Hillary Clinton, take responsibility for security at the U.S. Consulate in Libya…
In an interview with CNN tonight, Hilary Clinton claimed responsibility for the security at the U.S. consulate in Benghazi, Libya before the attack that killed Ambassador Christopher Stevens and three other Americans. In doing so, she took some pressure off President Obama and Vice President Biden for what's become a heated campaign issue.
"I take responsibility," she told CNN. "I'm in charge of the State Department's 60,000-plus people all over the world (at) 275 posts. The president and the vice president wouldn't be knowledgeable about specific decisions that are made by security professionals. They're the ones who weigh all of the threats and the risks and the needs and make a considered decision."
During last week's debate with Paul Ryan, Biden created an uproar with Fox News types when he said "we weren't told" about requests for additional security in Benghazi.
As the AP reports, there are now three concurrent investigations into the attacks: a congressional hearing, an independent inquiry by a panel appointed by Clinton, and an FBI investigation via Gawker.
What's black and white and red all over? Half of InterracialDating.com's list of the top 20 states where singles are looking for interracial love.
In a newly released survey by the online dating service, which specializes in connecting people who choose "character above color," according to a release, ten of the site's top 20 states with the most populous members have historically voted Republican over the past five presidential elections.
At the top of the list: California and Texas, the notoriously conservative state–and Georgia, which rounded out the top five. Further down, Alabama takes the number 15 spot, despite having legalized miscegenation as late as 2000.
Interracial marriages in the U.S. have climbed to a record 4.8 million, according to a study conducted by the Pew Research Center earlier this year. Experts there point to the steady flow of new Asian and Hispanic immigrants, which has expanded the pool of prospective spouses.
Others say that conservative's interest in dating interracially has been there all along. Click here to continue reading…
Tamera Mowry-Housley and her husband Adam are expecting their bundle of joy to arrive on the eve of Halloween. In light of such a memorable due date, Tamera has opted for a less traditional hospital gown.
"The outfit is so freakin' cute. It has a halter top that has ties around it so that I can expose my belly but my behind is covered," said the reality television star.

The actress further explained: "I didn't want to wear a regular gown from the hospital because they don't have cute stuff—and people have worn them before. I got a special gown for a beautiful occasion. I want to wear some tiger ears or put whiskers on my face. It's going to be fun."
Tamera and Adam are expecting their first child, a boy, to arrive on Tuesday, October 30, 2012. Catch all new episodes of Tia & Tamera starting tomorrow night, October 16, at 9/8c on Style! Via BCK.
Tamera Mowry-Housely is pictured with her twin sister Tia Mowry-Hardict
Educating kids about the election….
This time of the year, even the youngest children know something is up. There's a running stream of political advertisements on television, mail flyers with smiling politicians asking for our vote and the ubiquitous bumper stickers on cars.
You can tell when children are getting their daily dose of politics the moment they start parroting back "I'm Barack Obama/Mitt Romney, and I approve this message."
But making sense of the electoral process can be overwhelming for children.
"One of the problems is civics is not taught adequately in schools. A Democratic system relies on an enlightened citizenry, as Thomas Jefferson said, to meet its goals," says Charles Quigley of the Center for Civic Education, a non-profit, non-partisan organization that promotes civic education.
Schools used to spend more time teaching children about the political process in class. But national education reform's mandate for high-stakes testing has teachers and school administrators now placing more emphasis on math and language arts at the expense of political science, explains Quigley. Click here to continue reading…
More and more immigrant kids are arriving in America alone…
Rampant violence in El Salvador, Guatemala and Honduras is being blamed for a huge increase in the number of unaccompanied children being held in American detention centers after sneaking into the country. From the LAT:
The number of unaccompanied migrant children in U.S. detention centers grew nearly 50%, from 6,854 in fiscal 2011 to more than 10,000 in the nine-month period ended June 30, according to federal statistics cited in the report, titled "Forced From Home: The Lost Boys and Girls of Central America." …

In interviews conducted with 151 children in federal holding facilities, nearly 80% told researchers that violence was the main reason they set out for the U.S. by themselves
The article also notes that these kids "have no right to a court-appointed attorney," immediately before noting that a good attorney is their only hope for getting asylum. So that's depressing.
The full report on this, from the Women's Refugee Commission, can be found here. You may add this issue to the list of issues that was not be addressed during Tuesday's presidential debates. Click here to continue reading…
The 10 Most Powerful Couples in Tech…and yes, there's one interracial couple on the list!
No matter how many years since we've finished high school, it seems like we're always looking for the next homecoming king and queen. When it comes to the tech industry, there's no shortage of power couples in Silicon Valley and beyond. They meet a variety of ways — at blogging conferences, through a friend of a friend or through a sister, when she rents her garage to two guys working on a startup (…called Google).
The running themes in all these couples? Talent, intelligence and quest for world domination.
8. Rashmi Sinha & Jonathan Boutelle
Rashmi Sinha and Jon Boutelle are a husband and wife team that met while working in consulting. The pair co-founded SlideShare together. In 2008, Rashmi was named one of the "Most Influential Women in Web 2.0" by Fast Company.
SlideShare was founded in 2006 and was acquired by LinkedIn for $119 million earlier this year. Click here to view other couples on the list…
First Look: Maison Martin Margiela for H&M
Fans of the fashion brand Maison Martin Margiela will be excited to hear he's collaboration with H&M. The iconic house makes for a perfect pairing with the fast-fashion retailer. H&M has been teasing the public with little previews of what to expect here and there, but finally, the brand has released the look book for the range– and it's awesome. Take a look below and click here to view the full preview…
Lana Del Rey for H&M…
Sultry singer Lana Del Rey's unique personal style has captured the attention of the fashion world — and earned her a new role as the global face and voice of H&M's fall campaign.
Launched this month, the full campaign, includes print ads shot by fashion photographers Inez van Lamsweerde and Vinoodh Matadin, as well as full-length film, in which the 26-year-old singer performs a cover of "Blue Velvet," which was famously sung by Isabella Rossellini in the 1986 film by the same name.
Channeling Del Rey's signature retro style, the entire campaign has a vintage feel to it, with the singer posing with a vintage car in for the print campaign and singing into an old-school mic for the film ad.
Sporting her trademark backcombed pouf and heavy eyeliner, Del Rey models styles from H&M's fall collection — including a pink angora blend sweater and printed leggings to peplum tops and a feathered mini — which is in stores now.
And good news for fans of the singer — and the affordable fashion brand — H&M was so taken by her fall campaign that they've employed her to model their upcoming winter collection as well. Story and images via Celebuzz.
Chelsea Clinton steps up to fight diarrhea deaths in Nigeria…
Chelsea Clinton is taking on the discomforting issue of diarrhea, throwing her family's philanthropic heft behind a sweeping effort in Nigeria to prevent the deaths of 1 million mothers and children each year from preventable causes, including 100,000 deaths from diarrhea.
The 32-year-old daughter of President Bill Clinton and Secretary of State Hillary Rodham Clinton joined Nigerian officials, the prime minister of Norway and other leaders on Tuesday in promoting expanded access to zinc and oral rehydration solutions or ORS, a treatment that could prevent more than 90 percent of diarrhea-related deaths in the country.
"It is unconscionable that in the 21st century, children still die of diarrhea," Clinton told Reuters in an exclusive interview by phone from Abuja, Nigeria.
The ORS and zinc work in Nigeria is in coordination with the Clinton Health Access Initiative or CHAI, on whose board Clinton serves. She has stepped up her public role in the family's global philanthropic efforts and in July took a six-day tour of Africa with her father, who founded the William J. Clinton Foundation in 2001. Click here to continue reading…
Why we still eeed Affirmative Action in America…
Right now the Supreme Court holds the fate of affirmative action in its hands, and things don't look good. Fisher v. University of Texas at Austin pits a school that believes affirmative action and diversity are key to its mission against a young white woman who failed to get into the university and blames that on the school's use of race as a factor in the admissions process.
Experienced court watchers are certain that Justices Ruth Bader Ginsburg, Stephen Breyer and Sonia Sotomayor will side with the university and that Justices Clarence Thomas, Antonin Scalia and Samuel Alito and Chief Justice John Roberts will side with Fisher. Once again, Justice Anthony Kennedy is the swing vote, and this time he appears to be leaning toward the conservatives.
The end of affirmative action would have profound implications for higher education, leaving the U.S.'s top universities and graduate schools whiter. Because intergenerational mobility is tied to college attendance and joining America's leadership is linked to admission to the top selective universities and graduate programs, the removal of affirmative action would only increase the already overwhelming whiteness of the upper echelon of American society. Click here to continue reading…
Nia Long's Kez Udoka is a baby for Obama…
Actress Nia Long's baby boy supports Barack Obama! The nearly one-year-old tot, who is Nia Long's son with Sunday Udoka who is of Caucasian American and Nigerian African, wore his onesie proudly as big brother Massai Dorsey held him up.
The baby one-piece is said to be "perfect for the littlest Obama supporter in your life. 100 percent cotton and made in the USA." You can purchase the top at Store.BarackObama.com for $20.00. Via BCK.
Sandra Bullock gets naked in shower scene with Chelsea Handler…
The pixels are working overtime!
Sandra Bullock got naked in the shower with Chelsea Handler for the season premiere of Chelsea Lately on Monday. The purpose of the good, clean fun? To lecture the similarly naked Handler to "stop calling yourself the white Oprah," and, among other pieces of advice, to "stop sleeping with your guests."
"That's why I don't want to do your show. I don't want to sleep with you," Bullock jokes.

"I don't sleep with that many anymore," replies Handler, "just some of the rappers." (Handler and 50 Cent dated "very casually" last year.)

"You have a responsibility to be a respectable talk show host, okay? This comes directly from Oprah's mouth to my ear, to my mouth, out of my mouth, into your ear, down your body, out your vagina, up my vagina and out my ass," Bullocks bellows in a take-charge voice.
The theme of the lecture, says Bullock, is that Handler has become a disappointment. "You have a responsibility to be a role model to young girls and gay and questioning men," the Oscar winner tells her. "And you need to lay off the booze."
"I'm not drinking nearly as much as I used to drink,"says Handler. "Okay," says Bullock, "did I say you could talk?" Via People.
Watch the clip below:
Angelina Jolie responds to Taliban shooting of 14-year-old activist…
Angelina Jolie was so outraged by the Taliban attack on 14-year-old Malala Yousufzai that she put pen to paper to voice her concerns.
The United Nations Goodwill Ambassador wrote an essay for The Daily Beast Tuesday and explained how even her children are greatly concerned after hearing news of the shocking incident.
What did she write?
Jolie wrote, "I felt compelled to share Malala's story with my children. It was difficult for them to comprehend a world where men would try to kill a child whose only 'crime' was the desire that she and others like her be allowed to go to school."
Jolie wrote that her children, who understandably couldn't quite understand how something this tragic could occur, expressed utter shock upon hearing the news. They also asked practical questions that only children seem to have the ability to properly articulate.
Shiloh Jolie-Pitt, six, asked, "whether Malala had any pets, and if so, who would take care of them?" She also asked if Malala's parents were crying and how they were handling the news.
In fact, Pax Jolie-Pitt, eight, suggested that there be a statue built in Malala's honor – complete with "a reading nook near it."
Jolie concluded her revealing and powerful letter with her hopes that the recuperating schoolgirl "be given serious consideration" for a Nobel Peace Prize.
She isn't the only one in Hollywood to voice her disgust at the tragedy. Madonna expressed her sickness towards the incident at the Los Angeles leg of her MDNA tour on Oct. 10. Via Celebuzz.
Michelle Rodriguez steals the show at art dinner in a backless black gown…
She was supposed to be celebrating some of the most iconic costumes in cinematic history. But Michelle Rodriguez, who is of Dominican and Puerto Rican ancestry, ensured all eyes were well and truly on her as she attended the V&A Hollywood Costume dinner at London's Victoria and Albert Museum on Tuesday night.
The 34-year-old actress made she stood out from the crowd in a daring floor-length black gown by Ariella Couture, which featured not only a plunging hemline, but also a sexy backless lace panel.
Looking effortlessly elegant, the Fast and the Furious star's stunning ensemble was detailed with soft black Chantilly lace and featured a dramatic twist in the form of a soft crepe fishtail hem.
Rodriguez let her dress do the talking for the evening, opting for minimal make-up and accessories, and leaving her raven locks loose and tumbling around her shoulders.  The actress was joined at the launch dinner for the museum's new exhibition by Helena Bonham Carter, who left her typically eccentric outfits at home for the evening. Click here to continue reading…
The second of three presidential debates was held Tuesday night at Hofstra University in Long Island, N.Y. This event got so heated, it seemed at times as if someone was going to throw a punch.
Neither Barack Obama nor Mitt Romney actually lashed out physically, but there might have been some binders affected in the process.
If you missed Tuesday's debate, we have a recap in GIF form below. Not enough for you? Check out the recap of last week's vice presidential debate here. Via Mashable.
How Barack Obama threaded the town hall needle and got America to be outraged at Mitt Romney…
The return of the Romney Stench
I was a little concerned going into last night's presidential debate. Not because I was worried that the President Obama that I know and trust wouldn't show up. I was confident about that. I was concerned that the town hall debate format wouldn't allow him to be as effective as he needed to be at pushing back against Mitt Romney's incessant lying.
We all wanted him to, and I predicted that he would, go on the attack much in the same way Vice President Biden did against Paul Ryan last week. But town hall debates are notorious for penalizing aggressive, attack-style approaches. Just ask Al Gore or George H. W. Bush about that.
I needn't have worried. Just like Joe Biden invented a new way to debate liars last week, President Obama figured out a way to go on the attack in a way that seemed compassionate and strong at the same time without coming across as too aggressive. How did he do this? By being angry, and helping the audience to be angry, that his opponent wasn't compassionate.
He did it when it comes to tax fairness.
He did it with regard to the rescue of our domestic vehicle manufacturers.
He did it when it comes to immigration.
He did it with regard to China.
He most certainly did it with regard to the War on Women. And when Mitt Romney was tripping all over himself, talking about his "binders full of women", President Obama deftly got out of the way and let him fall flat on his face.
[By the way, that whole "I wanted more women in my administration so I asked for suggestions and got 'binders full of women'" bit? That's utter bullshit (i.e., a lie.)]
But, probably the most profound example was when Mitt Romney, once again and in shameless form, used the attacks on our embassies and the murder of our embassy officials and diplomats, to score political points. Click here to continue reading…
How Obama won the second debate…
President Obama followed the model of his vice-president in his second debate with Mitt Romney, repeatedly accusing his opponent of giving misleading answers and appearing to annoy the ex-governor at times.
Largely ignoring the crowd of 80 people at the town hall at Hofstra University in New York, Obama redirected nearly every question the audience asked at the town hall to a pointed attack on his opponent, much like Joe Biden did in his debate against Paul Ryan.
The most memorable moment came near the debate's end, when Romney and Obama were asked about the killing of four Americans including the ambassador, in Libya last month.
"The suggestion that anybody in my team, whether the Secretary of State, our U.N. Ambassador, anybody on my team would play politics or mislead when we've lost four of our own, governor, is offensive. That's not what we do. That's not what I do as president, that's not what I do as Commander in Chief," Obama declared. Click here to continue reading…
Oops! FLOTUS Michelle Obama and Ann Romney wear matching pink dresses to debate…
First lady Michelle Obama wore a 'pepto-pink' suit — as it was described by style watchers on Twitter — to the second presidential debate last night. Watching her husband President Obama from the sidelines in Hempstead, New York, Michelle paired the bright ensemble with a simple strand of pearls.
Described as "a neon jacket and sheath dress by Michael Kors" by the Mrs. O fashion blog, the first lady's look was very similar to that selected by Ann Romney for the occasion.
"Of note, both Mrs. Obama and Mrs. Romney wore pink dresses for the evening — described on Twitter as 'pepto-pink' and 'bubblegum' in hue. As October is Breast Cancer Awareness month, perhaps the color was chosen to support the cause?," questioned the style outlet that chronicles the first lady's fashions. As Ann Romney is a breast cancer survivor, that choice in support of this cause would be very fitting.
Yet, some fashionistas still brought out their claws to dissect the statement made by the women through choosing this shocking pink shade, whatever the underlying motive.
An edgy guide to all things chic, The Gloss commented, "although we're not crazy about the color, we think she looked pretty great," on the first lady's take. "After all, if you're going to wear a screaming shade of hot pink, you might want to keep everything else very simple and clean. And she did!"Click here to continue reading…
Photographs from the town hall style presidential debate at Hofstra University October 16, 2012 in Hempstead, New York. During the second of three presidential debates, the candidates fielded questions from audience members on a wide variety of issues. (Photo by Bruce Bennett/Getty Images)
President Barack Obama and first lady Michelle Obama embrace after a town hall style debate at Hofstra University October 16, 2012 in Hempstead, New York. During the second of three presidential debates, the candidates fielded questions from audience members on a wide variety of issues. (Photo by Michael Reynolds-Pool/Getty Images)
Republican presidential candidate Mitt Romney kisses wife Ann Romney after a town hall style debate with U.S. President Barack Obama at Hofstra University October 16, 2012 in Hempstead, New York. During the second of three presidential debates, the candidates fielded questions from audience members on a wide variety of issues. (Photo by Win McNamee/Getty Images)
Tagg Romney wanted to punch Obama during Tuesday's debate…
Not willing to let his dad hog all the petulant debate rage, Tagg Romney took serious offense when President Obama accused his father of being dishonest. In fact, he was so seriously offended that he wanted to punch the president. Really.
As Buzzfeed reports, the eldest of Mitt's sons said the following in an interview with a North Carolina radio station today:
"Jump out of your seat and you want to rush down to the stage and take a swing at him," Tagg responded, laughing. "But you know you can't do that because, well, first because there's a lot of Secret Service between you and him, but also because that's the nature of the process."
He also said his dad was "terrified" before each debate:
"Are you kidding? He's terrified before he gets out there!" he responded, before correcting himself, "Terrified is too strong a word. but you know, like anybody, he gets butterflies a little bit. And then once he's in it, two or three minutes, he's forgotten about the nervousness."
Oluchi Onweagba-Orlandi covers StyleMania magazine's October 2012 issue…
KolorBlind supermodel/entrepreneur, Oluchi Orlandi smoulders on StyleMania's Independence Issue, in a colorful tube dress by Ere Dappa and chic side bob hair do, photographed by Kelechi Amadi-Obi with makeup by Bimpe Onakoya, the model looked beautiful and graceful.
Named "Nigeria's National Treasure" by the fashion publication, the mother of two and wife to Luca Orlandi, the creative director of Milan based fashion house, Luca Luca, speaks to the mag on all things Oluchi as she gears up to hosting Africa's version of Tyra Banks' America's Next Top Model (ANTM) show billed to air soon. Story and image by BellaNaija.
Singer Joel Madden is on daddy duty…
Good Charlotte frontman Joel Madden was seen walking his children – daughter Harlow, 4, and son Sparrow, 3 – to school in Los Angeles on Monday (October 15). The trio walked hand-in-hand as they headed to class in the beautiful California sunshine.
Earlier this month, we spotted the kids with their famous mama, fashion designer Nicole Richie, enjoying a lunch date.
After mentoring Sarah De Bono on The Voice, Joel has now taken his wife's sister Sofia under his wing and offered to produce her first album.
Lionel Richie's 14-year-old daughter has already begun penning her own tunes, and can't wait to collaborate with her talented BIL.
"I'm always in the studio with my dad. I've written a few songs. I'll start off writing rhymes, then freestyles, then I add in beats," she tells Teen Vogue.

She adds: "Joel is always like, 'Let me produce your first record!' He takes me to the studio for voice lessons and we write together. He's really cool. He's one of my best friends." Via CelebBabyScoop.
Kim Kardashian FINALLY admits to a style mishap…
Her style points have plummeted since she gave Kanye West reign over her designer wardrobe.  But it wasn't until Kim Kardashian saw photos of herself in a garish yellow jacket on Monday that she finally conceded she had won a place on the worst dressed list.
Taking to her blog in an entry entitled Fashion Faux Pas, the star wrote: "You definitely need to be taller and thinner to pull this jacket style off!"
The 31-year-old reality star insisted she had the best of intentions when she stepped out in the unsightly frock, paired with a leather mini-skirt and black cut-out stilettos.  Still, she was compelled to admit, 'the mirror was lying to me this day!'
Kim candidly addressed the issue: "Ok, ok, I am putting myself on the worst dress list for this outfit! 'I wanted a little color while I'm living in Miami, so my intentions were good, but the cut isn't for me!"

"You definitely need to be taller and thinner to pull this jacket style off!'
The curvy star managed to take the style misstep in stride, and insisted everyone should expect to miss the mark at some point or another.
'Fashion is all about experimenting to try and find your style and you have some hits and misses along the way," she wrote.

"The mirror was lying to me this day! Where were my sisters or my boyfriend when I needed a good opinion?! LOL" Her self-confidence seemed to have soared overnight, however. Click here to continue reading…
Getting a little help from sister Khloe
On a better day…
After much deliberation, Louisiana to have 1st black chief justice Bernette Johnson…
The Louisiana Supreme Court resolved a racially tinged power struggle inside its own ranks, ruling Tuesday that Bernette Johnson should be the state's first black chief justice.
Johnson's years of appointed and elected service on the high court give her the seniority to succeed Chief Justice Catherine "Kitty" Kimball early next year, the court said in a unanimous ruling. Justice Jeffrey Victory, who is white, argued Johnson's appointed service shouldn't count and he deserved to be chief justice.
Voters elected Johnson in 1994 to the state appeals court, and she was assigned to the Supreme Court as part of settlement of an earlier lawsuit that claimed the system for electing justices diluted black voting strength and violated the Voting Rights Act of 1965.
She served an eighth Supreme Court district centered in New Orleans until the court reverted back to seven districts in 2000, when she was elected to the high court. Click here to continue reading…
Two huge NFL stars vouch for ankle doctor…
Derek Jeter made the RIGHT MOVE by trusting his busted ankle to Dr. Robert Anderson, so says two NFL superstars who tell TMZ Anderson was able to bring them back from some MAJOR foot injuries.
We spoke with Houston Texans QB Matt Schaub … who went under Anderson's knife over the summer to repair Lisfranc injury (displaced bones) in his right foot.
Schaub tells us: "Jeter is in great hands. Dr. Anderson is the best in the business at what he does." In fact, Schaub says Anderson exceeded his expectations when it came to recovery time. "Everything was on schedule, and even ahead of schedule."

Schaub also had some words of wisdom for DJ: "[Jeter] should follow all procedures that he's told and don't worry about anything and [he] will be even better after the procedure than he was before going in."
New York Giants running back Ahmad Bradshaw says he also owes his career to Dr. Anderson, telling TMZ the doc was able to treat him for multiple foot injuries and he hasn't lost a step.
"I had the greatest experience. His staff around him is top of the line , but to have the best doctor in the world, it's even more comforting."
So far, the extent of Jeter's ankle injury is unclear, and it's unclear if he'll require surgery.
Spotted: Chris Noth and his Popsicle pal…
The Good Wife star Chris Noth and wife Tara Lynn Wilson were seen with their 4-year-old son Orion at the farmer's market in Studio City, Calif. on Sunday (October 14). The preschooler enjoyed a popsicle and the bouncy castle on the sunny afternoon.
"We all have children and lives that are different," Chris recently said of his former Sex and the City costars. "In New York, I just ran into Kristn [Davis]. She was in a play that I was actually in in 2000, Best Man. I ran into Cynthia Nixon. I haven't seen SJ [Sarah Jessica Parker], but we all kind of went our separate ways, as often happens with actors."
The Noths are surely getting all prepped for Halloween night. Last year, we spotted the festive family trick-or-treating in their Los Angeles neighborhood.
The father-son duo dressed as superheroes. Orion was Spider-Man while papa dressed as the popular Toy Story character Buzz Lightyear. Mom looked just as great in her witch costume. Via CelebBabyScoop.
The happy family together: Tara Wilson, Chris Noth and Orion.
Style Showcase: Stella Jean…
Stella Jean, the Haitian-Italian designer, mixes West African prints in the most feminine and fun ways, inspired by her Creole heritage and upbringing in Rome.
Retro-inspired shapes make Jean's pieces all the more alluring, transporting us all back to a time when getting dressed up was de rigueur. Click here to view more of Stella Jean's collection…
Spotted: Halle Berry and her grocery companion…
Academy Award-winning actress Halle Berry was seen getting groceries with her daughter Nahla, 4, at Bristol Farms in Los Angeles, Calif. on Monday (October 15). The single mom was seen pushing her pretty preschooler in the buggy while heading back to the car.
Earlier this month, we spotted the mother-daughter duo at the pumpkin patch. Also along for the festive fun? Nahla's father, French-Canadian male model Gabriel Aubry, with whom Halle is in a bitter custody battle.
According to TMZ, the judge in their legal matters is deciding this week if Halle can permanently move Nahla to Paris, France. Sources say the judge has told both sides he does not want to send them a written decision and requires them to appear in court, rumored to be this Friday. Via CelebBabyScoop.

Local New York City white lady wears afro wig, takes photos with black people, becomes enlightened…
Buying an afro wig for a Studio 54 theme party thrown by your work is a totally reasonable thing to do. Less reasonable is buying an afro wig, wearing it to your theme party, and then continuing to wear it around New York City on a journey of self-discovery, during which you frequently take pictures with black people. Alas, that's exactly what Michelle Lapidos has done. Welcome to "Before and Afro."
Before you go calling this a stupid idea, let Lapidos explain:
"The afro changed my perspective; it made me think, walk, see and experience life differently. I wear it often. It's not about feeling black… what I actually feel like is ME, understood more clearly. It's not an alter ego. It's an amplified ego."
My ultimate goal here is to help people all over the world look deeper within themselves so they can master their consciousness and fall madly in love with every detail of their lives.
All of that might make at least some sense, maybe, looked at from a certain angle, from the perspective of a white woman who was once a Vogue magazine accessories intern. But it's Lapidos' afro-based jaunts, and subsequent Before and Afro blog posts, that start to veer into the surreal and absurd. Click here to continue reading…
Naomi Campbell and Vladislav Doronin are 'Ken & Barbie' for the night…
The supermodel attended a presentation for the Moscow development with her billionaire property tycoon boyfriend Vladislav Doronin on Tuesday evening.
She looked a little out of her comfort zone at the soiree, smiling shyly as she stood hand-in-hand with her dapper man.
But Naomi dressed to impress the hordes of her fella's minted colleagues and clients at the event held in the Russian capital. The catwalk queen donned a stunning frilly frock and a faux fur shrug that draped over each shoulder like blown-up Elvis sideburns. The model and Doronin looked every bit like Ken & Barbie dolls.
She finished off the look with a pair of glittery wraparound heels and a perfectly groomed hairdo. Vladislav looked every bit the businessman in a stripy suit that appeared several thousand pounds dearer than your average high street designs.
As the chairman of the Capital Group Board of Directors,he has played a pivotal role in the firm's OKO project – which consists of an 85-storey residential skyscraper and a 49-storey office block. Naomi and Vladislav have been dating since 2008. 
The 2012 ADColor Awards and Industry Conference will be underway on Thursday, Oct. 18 at the Bellagio Hotel in Las Vegas. This year actor, philanthropist and entrepreneur Boris Kodjoe will join an illustrious group of industry innovators when he receives the 2012 ADCOLOR All-Star Award presented by Omnicom Group, in recognition of his exceptional work with his charity dedicated to his daughter Sophie and his contributions to film, TV, stage, business and media.
Additionally, Soledad O'Brien, Host of CNN's "Starting Point" and co-founder of the Soledad O'Brien and Brad Raymond Foundation will also receive The CATALYST award presented by Draftfcb in honor of her exceptional track record in the media industry.
Now in its sixth year, ADCOLOR® is making additional strides to empower diverse professionals at every stage of their careers with programs designed to arm them with what they need to excel in their respective industries. The first of these programs is ADCOLOR® University, an extensive training program intended for agencies and individuals.
The thinking behind the program is that continued growth is essential at every level. The program teaches entry- and mid-level professionals to take control of their own career paths. In partnership with training powerhouse Global Novations, ADCOLOR® University will offer six classes for two modules in 2012 titled "Managing Inclusion™" and "Efficacy for Professionals™." Click here to continue reading…
Lala shares her experience as a 'stage mom'…
LaLa Anthony doesn't force her 5-year-old son to do anything he doesn't want to do. The television personality and reality star recently took to her blog to address criticism surrounding her son's presence on Full Court Life that questioned his desire to be featured on the show.
"Kiyan's feelings matter to me more than anything else. If he ever told me that he didn't want to be on TV anymore, that would be it," said the reality star.

La La also discussed the hardships of raising a child in the spotlight saying: "Wherever we go these days, there are cameras capturing our every move. But while I can't shield Kiyan from the paparazzi unless I want to keep him cooped up inside all day, on Full Court Life I can make sure things are on our terms," said the television personality.
Full Court Life features La La and Kiyan together on several occasions. In one episode, the two are at the beach playing in the water and searching for treasure in the sand. Kiyan is La La and Carmelo Anthony's first child together. Via BCK.
Actress Tia Mowry-Hardrict covers the latest issue issue of "FEARLESS" Magazine for which she also served as guest editor. Inside the mag the actress offers readers stories about her personal life and expresses the importance of staying true to one's self.
The "Oh, Baby" author tells readers "Always stay true to who you are. In this society, especially with women, they feel they have to change who they are to be liked in this world…stay true to who you are because God only made one of you."
FEARLESS Magazine Publisher, Arian Simone, was excited about working with Tia saying:
"We are honored to have Tia Mowry as our next guest editor. Tia brings a burst of fun energy to everything that she does; we are so pleased to have her with us again! She is an example of a young fly fabulous female who balances it all, husband, family, & career."

In other Tia news, she recently tweeted that she's joined the cast of the movie Baggage Claim: "So excited I can finally share I have been added to line up of fox searchlights Baggage Claim More exciting news 2 come" Story and images via YBF.
Tia and Tamera talk to Ebony magazine about marriage and motherhood…
Identical twin sisters Tia Mowry-Hardrict and Tamera Mowry-Housley burst onto the television scene in 1995 with their hit teen show Sister, Sister, and haven't slowed down since. Continuing their trend of portraying positive Black characters on screen, the twins have reunited for the reality show Tia & Tamera, he highest-rated show in The Style Network's history.
Now in its second season, the series follows new mom and book author Tia and newly-wed Tamera, who's expecting her first child in October, as the two balance family and their acting careers. In an interview with EBONY.com, Tia talks her future on the hit BET show The Game and both ladies gush about motherhood, sisterhood, love and marriage.
EBONY: Congratulations on your baby boy, Tamera! He's due in October; that is so exciting! I know you've had a chance to watch Tia go through her pregnancy with [her son] Cree, so you've been able to know what to expect. But what has been the most surprising thing you've experienced while being pregnant?
TAMERA: Thank you! That's a very good question because you go through a lot. But I guess I never really realized because I'm in my third trimester right now and the excess weight takes a toll on your body, your ankles, your knees. But positively, I never knew you could love something so much and he's not even born yet. I never knew how excited I would become just when I see the ultrasound. That's my way of seeing him and I love that and I can't wait to meet him.
EBONY: Tia, you have this great new book out called "Oh, Baby!" in which you give women the inside scoop on the side of pregnancy that people and doctors don't really prepare you for. How has motherhood changed you?
TIA: I've learned a lot about myself actually. I've learned how to be more patient. When you don't have a child and you're a hard worker who's always on the go, you're on a fast pace. But when you have a child you have to learn how to slow down and just be patient. My son gets me to enjoy the simple things in life. I really, enjoy just going to the park and spending an hour with him at the park now. At the park, I'm just another mommy hanging out with the other moms and watching our kids play and I love that. Click here to read the full interview…
Harry Belafonte: "If Mitt Romney is elected, we're in for a terrible, terrible future"…
Just hours before President Barack Obama and Republican presidential nominee Mitt Romney went head-to-head in their second presidential debate, actor and activist Harry Belafonte shared his hopes for the election outcome.
The legendary singer, actor and social activist, who was being presented with the Medal for Justice by John Jay College of Criminal Justice in New York City, said he feels the result of the 2012 election could change the course of the country's future"
"I think that where we are now is in crisis and [at] a crossroads," Belafonte told The Huffington Post. "If unbridled capitalism prevails with the current electoral process, and Mitt Romney makes it, then I think we're in for a terrible, terrible future."

"If he doesn't make it, then I think we have a chance to look at the democratic institutions and be more sensitive to poverty, women's issues, children, etc." Click here to continue reading…
Appeals court denies Alabama's request for new hearing on immigration law…
An appeals court Wednesday denied Alabama's request for a new hearing on the state's controversial immigration law.
The same court struck down parts of the law, known as HB 56, in August. Alabama officials had requested a new hearing, arguing that the 11th Circuit Court of Appeals' August decision was "erroneous."
"The panel's conclusions on these issues are important and wrong, They were not compelled by (the U.S. Supreme Court's July decision on Arizona's immigration law), and they were contrary to other precedents," Alabama said in a court filing.
The blocked parts of the Alabama law include language that made it a crime for undocumented immigrants to work or solicit work; imposed criminal penalties to hide "an alien" or rent property to anyone in the United States illegally; and required state officials to check the immigration status of children in public schools. Click here to continue reading…
Spotted: David Bowie at lunch in NYC…
He was once one of the most recognizable singers in the world.
But, after suffering a heart attack in 2004, David Bowie has been living a reclusive lifestyle, rarely seen in public, and doing his best to avoid the limelight.
So fans of the singer will be surprised to see a picture of the 65-year-old star out and about in New York. 
Bowie made a rare appearance as he picked up some lunch from a restaurant local to the luxury Manhattan apartment, where he lives with wife Iman and their daughter Lexi. Wearing a hooded blue sweatshirt, jeans, black shoes and a grey flat cap with sunglasses, Bowie managed a small smile for photographers as he strolled along clutching a large bag of food from a cafe.
Since having surgery in 2004 after collapsing backstage at a gig due to a clogged artery, Bowie has stayed out of the spotlight. 
One of his last public appearances was at a red carpet event when he supported his son Duncan Jones, formerly Zowie Bowie, at the premiere of his film Moon back in 2009. 
He also attended the DKMS' 5th Annual Gala: Linked Against Leukemia in New York in April 2011 with wife Iman. Click here to continue reading…
Richard Pryor's widow, Jennifer Pryor gives blessing to biopic…
Actor Mike Epps personally reached out to Richard Pryor's widow before agreeing to play the comic legend in a new movie, TMZ has learned and it might have been the smartest thing he's ever done.
Jennifer Pryor, the Caucasian widow of Richard Pryor, tells TMZ, she was touched by the gesture, saying: "That was very sweet and respectful that he called me first. I am happy that they picked him. He is a real good guy."
FYI, Epps is slated to appear as Pryor in the new film about jazz legend Nina Simone. But Mike Epps wasn't just being polite, he also made a real smart move, because Jennifer tells us, thanks to Epps' courtesy call, she's now considering the comedian to play Pryor in an upcoming Richard Pryor biopic.
The Pryor movie is still in development, but Jennifer who's acting as a producer on the film says she believes Epps is one of the few actors capable of an "authentic portrayal" of Pryor.
As for the one person she does NOT want to play Pryor, his name rhymes with Schmeddy Burphy.
Jennifer tells us, "Having Eddie Murphy play Richard Pryor would be like having Al Jolson play Malcolm X." (Jolson is an early 20th century white actor known for his blackface performances.)

We literally have no idea why Jen's got a thing against Eddie Murphy, but she says Pryor would NEVER have wanted Murphy to play him: "He would want someone authentic like himself."
Designer Rachel Roy visited her native country – India…
American-born Fashion designer Rachel Roy, who is of Dutch and Indian ancestry, recently visited India in an effort to continue her philanthropic efforts and also expand her Rachel Roy brand.
Roy and daughter Ava (her oldest child with estranged husband Damon Dash,  took trips around India to show her daughter her ancestry.
Roy and daughter in front of the Taj Mahal in India on October 13, 2012
Rachel writes via twitter: "Ava & I at the entrance to the Taj Mahal today, so blessed to be taking this trip with her!"

Roy recently told The Hindu that she was excited to take Ava to India so that her daughter could "see part of what makes her beautiful… the country she's from." Rachel also commented on her work ethic which focuses on empowering women. "I feel that it is my duty — not even a choice — to provide jobs. And I prefer to provide those jobs to women. Particularly for women that might be at a disadvantage, not being able to work. Once you work you have freedom, you can pay your own bills, get out of the situation you are in, protect yourself," said Roy.
While in India,  owners of India's leading designer boutique  KITSCH by Priya and Charu Sachdev, hosted a dinner to honor Roy at The Aman, New Delhi. Delhi's crème de la crème joined Priya and Charu Sachdev to welcome Rachel Roy whose designs were most recently spotted on Kareena Kapoor during 'Heroine' promotions.
At The Aman, Rohit Bal, Kalyani Chawla, Amita Seth, Niamat Bakshi, Tanisha Mohan any many more were seen enjoying the conversation, cocktails and dinner, with enthralling music by Rajasthan Qawals.
This was Roy's first visit to India. Fashion aficionados in India will have access to her collection, which will be exclusively retailed in KITSCH stores early 2013. Roy has worked in the fashion industry over two decades, serving as stylist for Michelle Obama and Tyra Banks during that time.
Photo credit: Kitsch 
Kalyani Chawla, Niamat Bakshi & Parul Gupta
Priya Sachdev & Rachel Roy
Rachel Roy and daughter Ava
Tia Mowry-Hardict and her son Cree,1, plan to lead out healthy lives this Winter by saying "Boo to the Flu." The two are already taking precautionary measures by cleansing counter tops and other surfaces with Clorox wipes.
Tia recently partnered with the Clorox Company and Visiting Nurse Associations of America to promote good health during the cold and flu season.
Although there are many steps that parents can take to protect their little ones from the flu, the best thing that moms and dads can do is get vaccinated. Clorox and Tia agree that vaccination is the first step in warding off sickness during the cold months. The celeb and disinfectant company also recommend frequent hand washing and good nutrition this flu season.
Visit Clorox and Visiting Nurse Associations of America's website dedicated especially to the flu to learn more about what you can do to "Say Boo to the Flu." Via BCK.
Alicia Keys: "I had to really bust my a** to get back in shape"…
Grammy-award winning singer Alicia Keys and husband Swizz Beats celebrated their son's 2nd birthday on October 14. The signer reminisced about how difficult it was to lose the baby weight.
Although celebrated as being someone who quickly bounced back into shape after giving birth to her son, Keys admits that weight loss was not an easy task:
"Some people are just like…'I just eat steak and potatoes and bread and I'm fine,' and I'm not that person. I have to really bust my a**," said the singer. "[It was] a lot of very difficult, hard, painful work."
Now, several pounds lighter, Alicia is reaping the benefits of her labor as she prepares to release her fifth studio album entitled Girl On Fire.
"[The album is] kind of about the journey to becoming a girl on fire because when you're becoming a girl on fire you're going through everything. You're going through vulnerabilities and insecurities…bouts of fear, and you're unsure of things…Then, you start to find your way and your voice, and that's what I was going through."
Keys' album is set to drop on November 27, 2012. It will be her first album since marrying producer Swizz Beatz and giving birth to their first child together.
Story via BCK. Click here to view additional pictures of Egypt on his 2nd birthday. 
Spotted: Kim Kardashian flying in heels and fur…
After calling herself out for her recent fashion "don't," Kim Kardashian is taking her style game up a notch. Kardashian looked way to good to be stepping off a flight when she was snapped in this glam ensemble — but that's exactly what she was doing.
The 31-year-old looked ready to hit the town, donning a chic all-black outfit and sparkly heels at Miami's International Airport on Wednesday.
The Keeping Up With the Kardashians star took her black leather leggings and flouncy blouse to a whole new class with a metallic Christian Louboutin heels and and a black fur coat, which she carried along with her crocodile Hermes Birkin bag.
Channeling old Hollywood glam with side swept waves and natural makeup, Kardashian seemed to be channeling the good, old days, when everyone dressed up to fly, and stars treated their airport photo ops like the red carpet.
Though Kardashian's heels and fur may be a bit much for some of us, we're inspired by her stepped-up airport style. Proof that it doesn't take much to really stand out. And Kim's not the only celeb to adopt a glam jetsetter style. Click here to view full photo gallery…
Lamar Odom is surprised by some familiar fans at his game…
Los Angeles Clippers forward Lamar Odom had some very special fans sitting courtside at his game Wednesday night: his wife Khloe Kardashian, who was joined by mom Kris Jenner and sisters Kylie and Kendall Jenner.
Kardashian, 28, stayed true to the L.A. spirit (but not the sport), donning an L.A. Dodgers cap and baseball tee. The family spent their evening munching on popcorn and snapping photos as Odom and the Clippers edged out the Utah Jazz 96-94 at the Staples Center.
The Kardashian-Jenner-Odom evening didn't end there. After the game, the group headed out for a post-game meal and tweeted:
"Late night casa vega w @RealLamarOdom @KendallJenner @KhloeKardashian," Kylie wrote on Twitter. Khloe echoed her sister, adding "Nothing like a fam bam din din." Via Celebuzz.
Khloe Kardashian and Lamar Odom cuddle up for 2nd fragrance ad…
Last year, Khloé Kardashian and Lamar Odom shared their 'Unbreakable' bond through their first unisex fragrance. But this year, the couple is all about joy; specifically, Unbreakable Joy, a follow-up scent for men and women, out just for the holidays.
"The holiday season is all about surrounding yourself with the ones you adore, and we wanted to create a fragrance that really captures that overpowering joy you feel during this wonderful time," Khloé says in a release.
To do that, the pair picked notes of fresh spices, champagne, jasmine, chocolate truffle, cedar wood and musk — "the ingredients this charismatic couple surrounds themselves with during the holidays," according to a release.
The ad reflects that theme of joy, too, with a heartfelt message from Lamar to his bride; the campaign is representative of the couple's love and the bond they share.
Unbreakable Joy comes in a red glass bottle, which features silver foil bubbles that represent champagne — and the festive spirit of the season. The scent retails for $45 on perfumania.com. Via Celebuzz.
Mitt Romney on Bain Capital: "Private equity firms don't 'attract many minorities and women"…
Mitt Romney is still receiving backlash for his "binders full of women" comment during the second presidential debate. According to the Huffington Post, this foot in mouth feeling surrounding women's issues is not entirely a new one for the Massachusetts governor.
In 1994, when Romney was running for a Massachusetts U.S. Senate seat, the Boston Globe asked him why there were so few minorities and women at Bain Capital. Ninety-five of the vice presidents at the firm were white and only nine were women. Romney's response was that the private equity industry does not "attract many women and minorities."
His opponent, Senator Ted Kennedy, made the remark an issue in the campaign, and Romney lost women voters by more than two-to-one.
Romney also blamed the elite institutions of higher education such as Harvard School of Business where they found many of their employees. Those schools, he told the Globe, "graduate only a handful of minorities and women."
In 1995, 28 percent of the graduating class from Harvard Business School were women and 14 percent were minorities. When Romney put together a team to head Bain, every member was white and male. The Republican insisted that he could not find "qualified" women and minorities. Click here to continue reading…
With fewer than 20 days left until the country elects its next president, first lady Michelle Obama is urging women to come out in strong numbers and vote for her husband.
"I voted for him because I knew he was going to stand up for women like me — and our daughters, sisters, and mothers," she wrote in a letter published in Elle magazine. "I'm proud of how far we have come. And I'm determined to help him keep moving forward."
The beginning of the letter describes President Barack Obama as a "loving husband and a devoted father."
Michelle writes, "I knew he shared my determination to make a difference in other people's lives. But I never dreamed that he'd one day be president, and I know that he didn't either."
She ends the letter by listing five reasons why women should vote for President Obama on November 6, including:
1. He's fighting for equal pay for women. Barack was raised by a single mom who struggled to pay the bills, and by a grandmother who worked hard at her job but hit a glass ceiling and watched men she actually trained climb the career ladder ahead of her. As the father of two girls, he wants to make sure that all our daughters grow up with the same opportunities as our sons and are treated fairly in the workplace. That's why the first bill he signed as president was the Lilly Ledbetter Fair Pay Restoration Act to help women get equal pay for equal work.
2. He'll fight for our right to make our own health-care decisions. Thanks to the historic health-care reform he signed, insurance companies will have to provide access to preventive services like contraception and cancer screenings without a co-pay. And they'll no longer be able to make us pay more for health insurance just because we're women. Read the rest of the letter on Elle.com.
Bruce Springsteen pens support letter for Barack Obama: "The President Is Our Best Choice"…
"We take care of our own," goes the refrain of a recent Bruce Springsteen song. A shared vision of an America where that's actually true is why he's endorsing President Barack Obama for re-election, according to a message the musician wrote to his fans.
On Wednesday, The Boss posted a letter on his website detailing why he wants the commander in chief to serve four more years:
"Right now, there is a choice going on in America, and I'm happy that we live in a country where we all participate in that process," the 63-year-old rocker wrote. For me, President Obama is our best choice because he has a vision of the United States as a place where we are all in this together."
What else did The Boss have to say about the country's current boss?
Springsteen is urging his fans and voters who are still undecided to choose Obama on Nov. 6 because it's simply a different election from the one in 2008. Unlike last time (and despite daunting obstacles), Obama has a record of achievement to run on this time, the musician wrote:
"Through grit, determination, and focus, the President has been able to do a great many things that many of us deeply support," Springsteen wrote, citing several Obama achievements over the last four years, including working to create jobs, passing guaranteed health care for most Americans, rescuing the auto industry, protecting the rights of women and the LGBT community, bringing troops home from Iraq and taking out Osama bin Laden.

"Right now, there is a fight going on to make this a fairer and more equitable nation. For me, President Obama is our best choice to get us and keep us moving in the right direction," he continued. Click here to continue reading…
Singer Cassie and Nicki Minaj debut video for 'The Boys'…
Nicki Minaj has just released her new video for "The Boys" with Cassie and it is definitely eye-catching! In it, Cassie models several looks, but the sexiest by far is her American Apparel Cotton Spandex Jersey Bra Bodysuit. Images by Fashionbomb.
Take a look at still-photos from the video and also watch the video below:
Congrat! Rapper Drake is officially a high school graduate…
Drake has a new title to add to his already stellar resume: high school graduate. The 25-year-old biracial of African-American and Jewish Caucasian descent Canadian rapper, whose real name is Aubrey Drake Graham, officially graduated from high school on Wednesday night.
"97% on my final exam. 88% in the course. One of the greatest feelings in my entire life. As of tonight I have graduated high school!" he wrote on Twitter.

"Thank you to my teacher Kim Janzen for spending the last 5 months working tirelessly with me!! OVO SOUND."
Drake, who has sold more than 5 million records worldwide over the course of just two studio albums, dropped out of high school in Toronto more than a decade ago when he landed his big break on Degrassi: The Next Generation.
He would go on to play Jimmy Brooks on the Canadian teen drama series for seven seasons (and a guest appearance on the eighth). While Drizzy chose to complete his high school diploma, he's not the first celebrity to ditch school for fame and fortune. Click here to view gallery of other celebrities who went back to school…
Tulisa Contostavlos launches her fashion range with pop-up shop…
It's a moment many women dream of, but never get to realise – opening their own clothing store. An unlikely fashion icon Tulisa Contostavlos the R&B/pop singer, who is of Irish and Greek Cypriot descent, certainty looked thrilled as she opened a pop-up store for her new collaboration with Bank, entitled TFB.
However, as the X Factor judge, 24, posed up for photographers in front of a huge billboard advertising the range, people could have been forgiven for wondering if there was a totally different person in the poster.
The North Londoner appeared to be heavily airbrushed in the images for her new range, making her look incredibly different from the singer standing just inches away.
The launch of the pop-up was hosted by Irish presenter Laura Whitmore, with Tulisa being supported by one of her X Factor protogees Ella Henderson.
Surprisingly, there was no sign of her other acts Lucy Spraggan or Jade Ellis.
Taking to her Twitter at the launch at Westfield in White City, West London, Tulisa said: 'Thanks 2 every1 that came down 2 my TFB clothing line launch! What a turn out! Much love xx. In the past I wasn't that interested in fashion, but being on The X Factor has made me become much more aware of own my personal style."

"To me, fashion is about having fun and experimenting and wearing what makes you feel good. Girls often ask me where I get my clothes so I thought I'd create my own collection, something that's fun, feminine, full of attitude and that reflects my personality." Click here to continue reading…
Al Smith dinner: Obama and Romney draw laughs at dinner…
President Barack Obama and Republican Mitt Romney scored big laughs at the Alfred E. Smith Memorial Dinner, an annual fundraiser at New York's Waldorf Astoria hotel for Catholic charitable work that has drawn presidential candidates since World War II.
A sampling of the best quips from their stand-up routines:
___
"I had a lot more energy in our second debate. I felt really well-rested after the nice long nap I had in first debate." — Obama, poking fun at his poor performance in the first nationally televised debate against Romney.
___
"As President Obama surveys the Waldorf banquet room, with everyone in white tie and finery, you have to wonder what he's thinking: 'So little time. So much to redistribute.'" — Romney, riffing on conservative complaints that Obama wants to redistribute the wealth.
___
"In less than three weeks, voters in states like Ohio, Virginia and Florida will decide this incredibly important election. Which begs the question: What are we doing here?" — Obama, on spending valuable campaigning time in solidly Democratic New York.
___
"Find the biggest available straw man and then mercilessly attack him. Big Bird didn't see it coming. By the way, in the spirit of 'Sesame Street' tonight, the president's remarks tonight are brought to you by the letter 'O' and the number 16 trillion."— Romney, on how he prepares for debates, his own plan to defund public television and the national debt. Click here to continue reading…
President Obama has reportedly hung up his stump speech as a fundraiser headliner for the season. Yet, first lady Michelle Obama is still gunning on the campaign trail, making personal appearances, and hosting luminary-filled parties. And she is tireless for the cause.
"I am fired up and ready to go, myself," the first lady told a large crowd gathered in New York City on Wednesday evening to contribute to the Democratic Committee's coffers. Speaking at a star-studded event called "America Sings" held on Park Avenue, Obama drew impressive guests including Chris Rock, Sigourney Weaver, Cynthia Nixon, Blair Underwood and James Earl Jones.
As Michelle continues to promote her husband's message, she is making a big impression on the many eager listeners who flock to her appearances.
"She gave one of the best speeches I've heard in my life," one woman said of Mrs. Obama at the Big Apple fete.
Attendees paid amounts starting at $1,000 per ticket for the gathering, which drew approximately 350 people.
In addition to making her typical campaign bullet points, first lady Michelle Obama took a jab at Mitt Romney for threatening to cut PBS funding during the first presidential debate. "We all know good and well that cutting 'Sesame Street' is no way to balance our budget," she said. "Shortchanging our kids is not how we tackle our deficit." Click here to continue reading…
FLOTUS visits Live! with Kelly and Michael…
First Lady Michelle Obama made a stop at Live! with Kelly and Michael and made headlines by revealing an amusing bit of intimacy from the first couple's private life in a segment that aired this morning.
When asked whether President Obama prefers boxers or briefs, the first lady jokingly responded, "None of the above."
Michelle Obama, who is more popular than President Obama, used these various venues in a short New York minute to remind voters that it is important to participate in the political process. She also underscored why she believes her husband is the best candidate and most deserving of the public's support.
"I'm proud of how he carries himself with consistency, and poise and decency and honesty," Obama told Live hosts Kelly Ripa and Michael Strahan. Via TheGrio.
Obama defines 'Romnesia' and its symptoms…
President Barack Obama has a diagnosis for what he considers rival Mitt Romney's shifting positions: Call it a case of "Romnesia."
Making a direct gender-pitch in hotly contested Virginia, Obama tells a college crowd that when it comes to issues important to women's health and jobs, Romney has conveniently overlooked his past stands.
"He's forgetting what his own positions are — and he's betting that you will too," Obama told an audience of 9,000 at George Mason University. "I mean he's changing up so much and backtracking and sidestepping. We've got to name this condition that he's going through. I think it's called Romnesia."
Obama, a broad grin on his face, borrowed heavily from the style of comedian Jeff Foxworthy, known for his "you might be a redneck" standup routines.
"If you say you'll protect a woman's right to choose, but you stand up at a primary debate and said that you'd be 'delighted' to sign a law outlawing that right to choose in all cases, man, you've definitely got Romnesia," he said.
Riffing as if he was still delivering one liners at Thursday night's Catholic charity dinner in New York, Obama said he had good news for anyone who suffers from Romnesia. "Obamacare covers pre-existing conditions," he bellowed. "We can fix you up. We've got a cure! We can make you well, Virginia." Click here to continue reading and watch the clip below…
What President Obama really wants to do in a 2nd term…
Following President Obama's strong performance in Tuesday's debate, Republicans, including Mitt Romney, have seized on a new line of attack: the president isn't being specific enough about his second term agenda. Non-partisan analysts are making the same claim, namely that Obama must provide more details about what he would do in his next four years to win.
They're wrong. Even though he's not talking about these ideas much on the campaign trail, it's likely Obama would push for immigration and energy reform and a long-term budget deficit reduction deal in a second term. But perhaps the most important goal of an Obama second term, one he has nodded at himself at times, is preserving the accomplishments of his first term.
The health care law and the Dodd-Frank regulatory reform bill were huge, sweeping measures that could transform entire sectors of the American economy. One could argue the health care law will have more impact than any single piece of legislation passed by either Bill Clinton or George W. Bush over the course of their combined 16 years in office, other than the authorizations for wars in Iraq and Afghanistan. Conservatives agree that the legislation is powerful, which is why they are trying so badly to repeal it. Click here to continue reading…
Ann Romney: "Why should women be paid equal to men?"
At a meeting with the "Moms For Mitt" group yesterday outside Philadelphia, PA, Ann Romney was asked her opinion on Lilly Ledbetter and equal pay for equal work regarding women's employment. Without hesitation she responded with another question that seemed to shock even the most staunch conservatives in the room.
"Why should women be paid equal to men? Men have been in the working world a lot longer and deserve to be paid at a higher rate. Heck, I'm a working mom and I'm not paid a dime. I depend on my husband to provide for me and my family, as should most women… and if a woman does work, she should be happy just to be out there in the working world and quit complaining that she's not making as much as her male counterparts."

"I mean really, all this wanting to be equal nonsense is going to be detrimental to the future of women everywhere. Who's going to want to hire a woman, or for that matter, even marry a woman who thinks she is the same, if not better than a man at any job. It's almost laughable. C'mon now ladies, are you with me on this?"
After Ann Romney finished speaking, there was an awkward silence in the air with a smattering of applause that seemed to come from a forced obligation to support their future party nominee's wife.
Seemingly belittled by the lack of agreement, Ann Romney was ushered out of the banquet hall and driven back to where her husband was waiting for her. It is not known if the former Governor has heard this quote yet. However, I'm sure he will support it and tell anyone who doesn't that they are waging a war on women everywhere. You know, because that makes total sense. Via FreeWoodPost.
Whoopi Goldberg's uncomfortable question to Ann Romney…
Ann Romney sat down with the ladies of "The View" on Thursday and answered some uncomfortable questions about her husband, Republican presidential candidate Mitt Romney.
Originally, the Romneys were going to appear on "The View" together, after the Republican presidential candidate made less-than-flattering remarks about the show's hosts. Gov. Romney canceled earlier this week, so Mrs. Romney made a solo appearance on the ABC program.
The interview seemed somewhat tense from the get-go, but turned especially awkward when co-host Whoopi Goldberg asked Romney to clarify if her husband did not serve in the military for religious reasons.
"Now, I believe that your religion doesn't allow you to go fight,"Goldberg said.

"No, that's not correct," Romney responded. "We have many, many members of our faith that are serving in armed services."

"OK, um, well I say that because when I read about your husband, what I had read, and maybe you can correct this, is that the reason that he didn't serve in Vietnam was because it was against the religion," Goldberg asked. "That's what I read, I'm sorry."

"No, that's not correct," Romney said. "He was serving his mission. My five sons have also served their mission." Romney later added, "I sent them away as boys and they came back men."Click here to continue reading…
Clint Eastwood's daughter: "I'm not voting for Romney"…
Despite the fact her dad gave the most memorable speech at the Republican National Convention, Clint Eastwood's daughter says she will NOT be casting her vote for Mitt Romney. Francesca Eastwood was leaving the Chateau Marmont hotel in Hollywood the other night, when we asked if she felt the same away about the candidates as her father.
Francesca replied: "I happen to not be voting for the same man. But I love that [my dad] stands up for what he believes in."
Montel Williams campaigns for Arkansas medical marijuana plan…
Talk show host Montel Williams on Thursday accused opponents of an Arkansas ballot measure that would legalize medical marijuana of resorting to "racist" imagery with a television ad featuring an African-American actor portraying a drug dealer.
Williams, an outspoken supporter of medical marijuana, appeared Thursday at the state Capitol alongside members of Arkansans for Compassionate Care, which is campaigning for Arkansas' legalization measure on the Nov. 6 ballot. He criticized an ad aired by a conservative group opposing the proposal.
"Offensive is really an understatement. It's the most egregiously racist, false statement you've ever seen in your life," Williams told a crowd gathered in front of the state Capitol steps.

" They've people sitting in a picture holding guns, talking about medical marijuana, and of course they happen to be of different colors to make sure you're as irritated and angry as you can be."
The Arkansas measure would allow patients with qualifying conditions to buy marijuana from nonprofit dispensaries with a doctor's recommendation. If approved, Arkansas would become the first Southern state to legalize medical marijuana. Click here to continue reading…
Racist, racist, racist! Study: "White people less likely to be gay, black people more prone"…
White people are less likely to be gay, according to what could be the largest ever study to calculate America's lesbian, gay, bisexual or transgender population (LGBT).  The Gallup survey, released this week, was based on interviews with more than 121,000 people, and showed that 3.4 per cent of adults considered themselves a member of the LGBT community.
According to the survey, conducted between June and September, 4.6 per cent of African-Americans were LGBT, along with four per cent of Hispanics, 4.3 per cent of Asians and 3.2 per cent of Caucasians.
Overall, a third of those identifying as LGBT are non-white, the report said.
Demographer Gary Gates, of the UCLA School of Law's Williams Institute, said: 'Contemporary media often think of LGBT people as disproportionately white, male, urban and pretty wealthy.
'But this data reveals that, relative to the general population, the LGBT population has a larger proportion of non-white people and clearly is not overly wealthy.'
The survey found that there was a slight gender difference, 3.6 per cent of women identified as LGBT, compared to 3.3 per cent of men. Younger adults, aged 18 to 29, were more likely than their elders to identify as LGBT. Click here to continue reading…
It's time to celebrate! Jaid and Jax Nilon turn five years old today(October 18th)! The duo enjoyed a celebratory day with their mom Garcelle Beauvais and big brother Oliver at school today.
"5 years ago today i was blessed with two little angels #happybirthday Jax & Jaid," mom Garcelle wrote via her Twitter page.
The twins started pre-K this year. "We're going to have them in separate kindergartens next year so they can have their own space, but we didn't want to bring them to a new school and then separate them right away. So they're in a pre-K class together, at the same school where they'll go to kindergarten next year," Garcelle recently told WebMD. Via BCK.
Kim Kardashian and Kanye West get cozy in Italy…
Kim Kardashian and Kanye West shared an intimate kiss after dining together at famed restaurant Il Bolognese in the H'Errys Nar in Via Veneto. Kardashian — who turns 32 on Sunday — looked gorgeous in a curve-happy green peplum dress, while West rocked a stylish black blazer and leather pants.
"When in Rome…" Kardashian tweeted just a couple of hours ago.
She also professed that West, 35, is her favorite rapper.
"Now Playing- Andrea Bocelli "can't help falling in love with you". He's my favorite male singer of all time!" She wrote Wednesday, before adding, "But my favorite male rapper of all time is Kanye ;-)"
Kardashian on Wednesday was seen flying out of Miami in a stunning all-black ensemble and sparky heels. Via Celebuzz.
Madonna's son David is a DJ…
Connor Cruise isn't the only one finding his wings in disco jockey. Apparently, Madonna's 6-year-old son David is also trying a hand in the entertainment form. The youngster was recently introduced onstage as "Madonna's son" at the pop singer's L.A. concert, where he made an unforgettable debut as a DJ.
David rocked the house alongside a more seasoned DJ who showed him the ropes. David may be one of the younger disco jockeys in the industry but he isn't the first of Madonna's children to join her onstage in concert.
Lourdes and Rocco have been performing with the singer for some time and now the torch has been passed on to David to lead out. Will Madonna's little one be the next great DJ? Via BCK.
Actor Jamie Foxx shares parenting techniques…
Jamie Foxx has been a father long enough to know that there are two sides to parenthood. On one hand, there's the authoritative figure who primarily tells children what to do and expects their wishes to be carried out. Then there's the friendly guardian who gives advice about life based off lessons they've learned along the way. As a single father of two daughters, Foxx utilizes both sides of parenting when rearing his girls.
"There's the 'I'm gonna talk to you like father stuff. Like 'When I was a kid, I walked to school,' and 'What's all this music that you're listening to?' and 'You're throwing your life away," says Foxx.

Then there's the "homey" approach. "Like with my oldest daughter, I say, 'Hey, if you're going to drink, pour your own drink, no drugs. When it comes to physical activity or things like that, make sure you protect yourself physically and emotionally.'

"Talk to them as real as you can, because right now that's what kids need. And even though you do all that, you're still gonna be on their nerves. I'm still goofy," Foxx admits.
Although a celebrated actor and songwriter who has won several awards, Academy and Grammy, Foxx says that he can relate to the average parent:
"You learn that it's all still the same parenting process, regardless if you're a celebrity or if you're just a person who's working nine to five. The main thing is staying really, really close to them and making them understand that you've been through things and you can help them, but don't try to live your life for them," explains the actor. Click here to continue reading the interview.
Congrats! Rodney Jerkins and wife Joy welcome baby No. 3…
Music producer Rodney Jerkins and his wife, Joy Enriquez, have welcomed their third child, a daughter named Hannah Joy. Us Weekly exclusively revealed.
Born Friday at Cedars Sinai Medical Center in Los Angeles, Hannah Joy Jerkins weighed in at a healthy 7 lbs., 9 oz. She joins older siblings Rodney Jerkins II, 4, and Heavenly Joy, 2, at home. Married for eight years, Jerkins, 35, and actress Enriquez, 34, announced their pregnancy in April via the producer's Twitter account.
Nominated for two Grammys, Jerkins — known as "Darkchild" — has produced music for Jessica Simpson, Michael Jackson, Beyonce and Lady Gaga, among many others. He is currently in the studio with Britney Spears.
Nicole Richie: "Harlow Doesn't Like Our New Dog"…
During a Thursday appearance on The Ellen DeGeneres Show, mom-of-two Nicole Richie opened up about her family's latest addition:
"We just got a puppy, a German Shepherd named Ero," the 31-year-old clothing and jewelry designer shared. "He is 18 months."

"This is our first family pet," said Nicole, mom to daughter Harlow, 4, and son Sparrow, 3. "He's a great dog. I've only had him about a week but he's so sweet."

"He's really Joel's dog," she continued, speaking of her husband Joel Madden. "I actually told Joel, 'I don't want to pick up after anything ever again. I've got my kids so I'm going to let you do that.' It's his dog, but I like to, you know, snuggle. I like to hug him and kiss him."

And while Sparrow "was really excited" to welcome the pooch, Harlow "did not want a dog," Richie said. "She's very delicate. She doesn't like anything disturbing her space. Delicate would be the best way to put it."

Ellen then joked that Nicole "really respected [Harlow's] wishes" by bringing home the pooch. "I like to make my kids happy," Nicole laughed. "I'm a really good mom, you guys!"
According to mom, Harlow may change her mind in the future. "She's definitely coming around," Nicole said. "She's down." Via CelebBabyScoop.
The beautiful biracial actress is covering yet another magazine and this time, it's T Magazine. There are few women in the public eye who have more elegantly embraced the passing of the years than Halle Berry. Some of those years, by her own account, haven't been easy.
But as Joyce Maynard's thoughtful profile of the actress shows, Berry has turned obstacles into the building blocks of a remarkable life as a movie star and as a mother. And if Berry has her way (is there any doubt?), her 4-year-old daughter will grow up knowing what truly makes her beautiful, no what matter what color nail polish she chooses.
The highlight of the interview is when she's asked about her choice in men to which the actress answered with a laugh:
"My picker's broken. God just wanted to mix up my life. Maybe he was thinking, 'This girl can't get everything! I'm going to give her a broken picker.' " Images via FashionBomb.
The actress also talked about raising her daughter:
She reveals, "I get it about the celebrity stuff. It's part of my job to recognize that there's a certain part of my life the public wants to hear about. But it's not O.K. that they're doing terrible things to my daughter. One night, after they chased us, it took me two hours just to get her calmed down enough to get to sleep."

"I can't grow my daughter in L.A. You take a little child who is just trying to learn about the world and have all these people with cameras chasing after her, calling things out to her about her mother. It's starting to make her feel special and different. I want her to feel special and different, but not for the reason of being my child."
Asked what she would do if she could manage to evade the press for just one day she states:
"I'd go to the market with my daughter. Go to Santa Monica Pier and take her on a ride. Nothing special. Just live some normal life for once."
Berry also reveals her favorite book to read to Nahla is Harold and the Purple Crayon:
"It's a book about creating your own reality," Berry says. "Sometimes, with Nahla, we'll take out the crayons and I'll say, 'If you could be Harold — only you're Nahla — and you had that purple crayon, where would you go?'

She adds, "We think up all kinds of things to do and places to go. One thing about Harold, he's colorless. That crayon can take you anywhere."
Daya Vaidya Introduces Twin Sons Jai and Dev…
Meet Dev Eshaan and Jai Blue! Actress Daya Vaidya introduces her identical twin sons in an adorable series of shots exclusive to PEOPLE.
Born on July 25, the baby boys joined the former Unforgettable star and her husband Don Wallace's daughter Leela Grace, 3. From tackling twins and tandem nursing to telling her boys apart (hint: one's a little ladies man!) and her natural delivery, Vaidya opens up to PEOPLE about her new life as a mom of three.
PEOPLE: Congratulations on the birth of your sons! Can you tell us a little about each of the boys — their personalities thus far, little physical differences, the ways you're able to tell them apart?
Daya Vaidya: Thank you! Jai — the older one by four minutes — doesn't stop eating, so he's getting nice and plump, with the cutest double chin! Dev is trying to catch up with his brother. He's almost there. They were tiny five pounders, so it makes me very happy to see them both gaining weight so well.
We call Dev our little charmer because he's always cooing with big eyes, especially when our female friends pick him up. He seems to already love the ladies!
Jai, on the other hand, has a perpetual impending look of disaster on his face, as though someone may drop him at any moment. We can tell he's not actually worried, it's just the way his brow creases and his forehead wrinkles. But it's pretty funny because he looks like an 80-year-old man on a baby's body — an 80-year-old man with a receding hair line and double chin!
We can totally tell them apart though, especially because of the size difference, facial expressions and Jai has two birth marks on his knee and neck. They're both really sweet, good babies that miraculously sleep at night!
PEOPLE: You had mentioned that the boys' names would have a lot of meaning to you and Don — just as Leela's does. Can you walk us through the background of each and why you chose it?
DV: I told my husband early on that I would like to find Sanskrit names for our children to honor my father — who passed away in 2000 — and the values he taught us. He knows how close I was to my father and really supported me in honoring him.
Leela means "cosmic or divine play" and my dad used to speak of this concept a lot when I was growing up. I always thought it was pretty. Jai means "victory" or "victorious." Blue is the film Don wrote, produced, starred in and where we met. Dev means "God or divine." And Eshaan is one of the many spellings that means "Lord Shiva." It also stands for "northeast" which symbolizes knowledge, prosperity and peace. Click here to continue reading the interview…
Star-studded support: Heidi Klum, Leona Lewis and Nicole Scherzinger and others 'Stand Up To Cancer' in charity telethon…
Their lives may be full of wealth and privilege, but a number of the world's biggest stars decided to give something back on Friday night.  The likes of Heidi Klum, George Clooney, Samuel L Jackson and Leona Lewis dedicated their evening to Channel 4's Stand Up To Cancer charity telethon.
Flaunting her supermodel figure, Heidi put in an appearance on Alan Carr's Chatty Man show, showcasing a T-shirt she had designed specially in honour of the event. Click here to continue reading and view additional photographs…
Strutting her stuff in a pair of form-fitting leather trousers, the German beauty looked simply stunning as she treated the host in question to a huge kiss on live television.
Biracial singer Leona Lewis was one of the many performers of the evening
She's got The X Factor: Nicole Scherzinger appeared in a comedy skit at the start of the show
Vrooom: Lewis Hamilton appeared on Alan Carr's Chatty Man Show
Golden girl Jessica Ennis leads the glamour as British athletes celebrate an amazing year at gala dinner…
With autumn well and truly here, the London Olympics and Paralympics is beginning to feel like a distant memory. However, on Friday night, we were given a boost to our flagging Olympic spirit as a host of Team GB stars attended the UK Athletics Dinner.
Leading the glamour was gold medal winning heptathlete Jessica Ennis, 26, who showed off her toned legs in a black and pink mini dress.
The 26-year-old, who was named British Olympic Athlete Of The Year this week, joined her contemporaries to mark an amazing year in British athletics.
A host of past and present Olympians attended the black-tie dinner at the Royal Courts of Justice, Strand. Click here to continue reading and view additional photographs of other athletes…
Emelie Sandé celebrates with AWNY for 100th Anniversary Luncheon…
On October 4, 2012, the Advertising Women of New York celebrated their 100th Anniversary with a luncheon at  Gotham Hall  in New York City. In attendance were influential women representing various fields. Attendees included….
Alexis Josephs, Emeli Sande and Carol Watson
Spotted: Olympic champion Mo Farrah and twin brother…
Olympic gold medalist Mo Farrah posed with his twin brother. Can you tell them apart? He tweeted:
"Having a great time with my twin brother…!!! Shabba…!! #family"
Alicia Keys debuts 'Girl On Fire'…
Biracial Grammy-award winning singer Alicia Keys is a wonder woman in her newest video, 'Girl On Fire' which depicts her taking on the daily responsibility of most women; taking care of their children, family, cooking, cleaning and everything else that comes with it, while managing to look stunning.
She reminds us that, as women, we really do have a lot on our plate.
Although the audio version of the song features a guest appearance by rapper Nicki Minaj, the video does not feature the rapper or Olympic gold medalist 'Gabby Douglas' who was mentioned in the original version. Story and images by Necole Bitchie.
Take a look at the video below:
Alex Cross is a reboot of the film franchise based on James Patterson's novel series featuring the titular detective Cross – a character who has already been portrayed onscreen by Morgan Freeman in films like Kiss the Girls and Along Came a Spider.
For the premiere, the cast of the movie and biracial actress Carmen Ejogo dazzled on the red carpet for the Los Angeles Premiere.
Take a look at the photographs below:
BooBoo Stewart who is of Japanese, Chinese, Korean, Native American, Russian and Scottish descent.
Carmen Ejogo who is of Caucasian British and African Nigerian descent and Rachel Nichols
Paranormal Activity 4
The fourth installment of the highly-successful Paranormal Activity franchise opens in theaters on Friday, along with Tyler Perry's interpretation of Alex Cross, novelist James Patterson's iconic FBI agent once made famous by Morgan Freeman.
Paranormal Activity 4 sees the return of Paranormal Activity actress Katie Featherston. The new installment is set five years after the disappearance of Katie (Featherston), and a suburban family witnesses strange events in their neighborhood when a woman and a mysterious child move in.
Alex Cross
It was an unenviable task for Tyler Perry to follow no less than Morgan Freeman with his portrayal of Alex Cross, the title character in the latest big-screen interpretation of novelist James Patterson's iconic FBI agent.
But with more than a decade between the last Cross film, Along Came a Spider, and Rob Cohen's clumsy new installment, Perry should only endure comparisons between this and his performances in his own highly-successful if often artistically-dubious Madea movies, in which he hams it up as a comically volatile matriarch.
Where do audiences find Alex Cross at the beginning of the film?
Perhaps obviously younger than Freeman's version of the character, Perry plays Cross during his stint as a Washington, D.C. homicide detective, where his partners Tommy (Ed Burns) and Monica (Rachel Nichols) are quietly stumbling their way through the early stages of a romantic relationship.
Happily married himself with a baby on the way, Cross still has plenty of time for his wife Maria (Carmen Ejogo), even when his days are filled with the pursuit – often literally – of violent criminals. But when he and his team come across a gruesome murder scene adorned with the artwork of a sociopath they dub Picasso (Fox), Cross finds himself in the killer's crosshairs.
The idea was to take the story back to the earlier days of Cross, casting a younger face to portray the younger version of the detective. For a moment there, Luther and Prometheus star Idris Elba was the man to take up the mantle – before the role was passed to writer/director/producer/mogul Tyler Perry.
Fan reaction has teetered between skepticism and disappointment, with many people still pining for Elba. But with today's Alex Cross trailer, Perry will get his first chance to turn the tide of fan opinion to his side.
Related articles